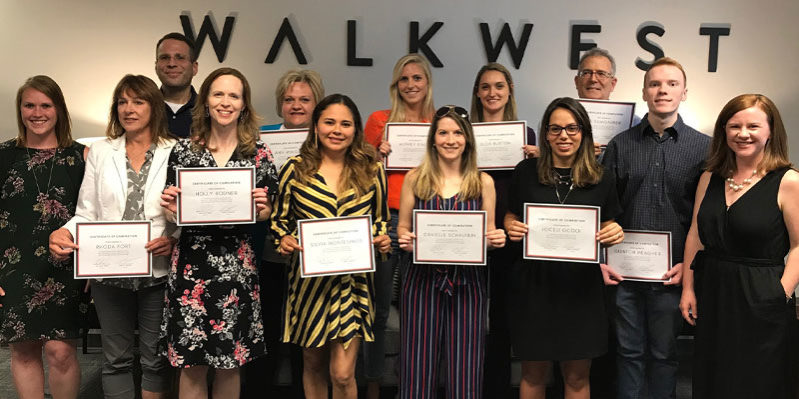 The world of social media changes constantly: Established platforms like Facebook and Instagram are ever-evolving, while brand new analytic tools like Quintly and BuzzSumo appear everyday. Navigating all these platforms can be tricky – but a comprehensive social media campaign is one of the most effective ways to promote your business.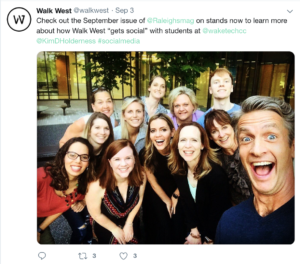 To help business owners and marketing professionals develop social media skills, Wake Tech has formed a new partnership. The college has teamed up with Walk West, a marketing, public relations, and communications agency based in Raleigh, to create a Certificate in Social Media Strategy and Management, a 16-week, non-degree program.
"I registered for Social Media Strategy & Management after a long break in employment – to find out if I even belonged in marketing," says Holly Bodner, a graduate of the program's first class. "What I learned far exceeded my expectations. The instructors provided me with relevant, cutting-edge information into this rapidly-changing field, and I decided to launch my own business!"
Topics include everything from developing a social calendar to measuring, calculating, and analyzing ROI across several platforms. Along with certificates of completion from both Wake Tech and Walk West, graduates of the course walk away with a Google Analytics Certification and an optional Facebook Certification.
"These days, every company needs to include social media in its communications strategy," said Anthony Caison, Wake Tech's Vice President of Workforce Continuing Education. "This credential, backed by Walk West, gives students high-quality training from real-world industry leaders."
Ready to become a social media whiz? Learn more at socialmedia.waketech.edu.