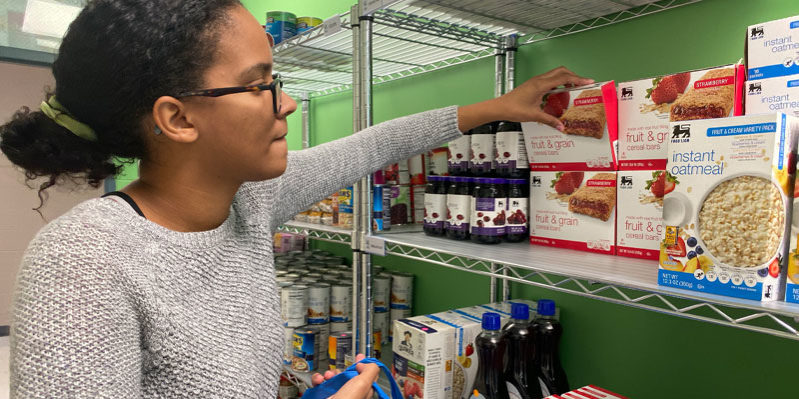 Wake Tech students overcome a variety of challenges to pursue a college education, and for some, the challenge is food insecurity. To help those students, Wake Tech has five food pantries, collectively known as "The Nest." The pantries rely on donations from staff and faculty, community members, and local non-profits.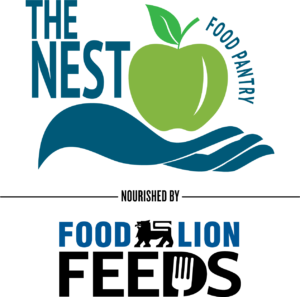 The Nest now has a new look and newly-stocked shelves, thanks to the generosity of Food Lion. The company's Food Lion Feeds initiative selected Wake Tech for its "Great Pantry Makeover" program last fall. More than 30 local Food Lion associates and community food bank partners came together to renovate the pantries – and fill them with nutritious food. Food Lion also presented Wake Tech with a generous $125,000 gift to expand college efforts to help students and their families combat food insecurity.
"At Wake Tech we believe in 'reach and rally'," said Wake Tech President Dr. Scott Ralls. "We want our students to focus on their studies and their goals – not worry about being hungry. This partnership with Food Lion will allow us to expand our efforts to help students succeed and thrive."
Food Lion associates installed new shelving in all five pantries and filled them with non-perishable food for Wake Tech students in need. The makeovers also included new refrigerators, aimed at expanding the pantries' capacity for distributing fresh produce. Wake Tech offers The Nest food pantries on the Scott Northern Wake, Southern Wake, Perry Health Sciences, and RTP campuses, as well as at the Beltline Education Center.
Khalid Pickering, Director of Operations at Food Lion in Raleigh, summed it up: "No one should have to choose between food and books."
In a 2016 survey, 41 percent of Wake Tech students reported experiencing food insecurity, and 29 percent said hunger or housing problems were affecting their academic performance. Wake Tech is committed to eliminating barriers to success, and providing assistance with basic needs is one way to do that. Wake Tech students, faculty, and staff, as well as campus clubs and organizations, contribute inventory through food drives and "Sponsor-a-Shelf" initiatives. Since The Nest first opened in 2014, it has received 32,397 pounds of non-perishable food donations and provided vital food assistance to more than 2,396 students in need. 
Food Lion, headquartered in Salisbury, NC, has donated more than 500 million meals to individuals and families since 2014. It has committed to donate one billion more meals by 2025 as part of its Food Lion Feeds initiative.
Learn more at foodpantry.waketech.edu.