Interested in an IT or cybersecurity job, but not sure you have the necessary training and experience? Good news! High-tech jobs are not just for those with advanced degrees.  Thanks to a grant from the U.S. Department of Labor – the largest grant in Wake Tech's history – qualified students can prepare for in-demand tech jobs with their expenses covered – tuition, books, registration, and testing fees.
The TechHire: Project SECURE grant can accept up to 350 students, and funding is available through 2020. Students between 17 and 29 who have not had education or work experience in cybersecurity are eligible. Wake Tech will prepare them for high-skill, high-demand occupations along a career pathway requiring progressively more advanced training and certifications. Students can choose from two specialty skills tracks: The CompTIA track trains students to repair computers, and offers industry-recognized certifications that include CompTIA A+, Server+, Network+, and CompTIA Security+. The CISCO track prepares students to troubleshoot network systems, and offers CCNA, CCNA Security, and Linux+ certifications, among others. Both tracks can lead to advanced training in cybersecurity, and students can become Certified Ethical Hackers.
Austin Barclift is starting his TechHire path in the CompTIA IT Fundamentals class. "I'm joining this program so I can transition out of the business field and into IT. I chose the IT industry because technology is always changing, and I know the job market for IT will continue to grow."
Wake Tech's Workforce Continuing Education Division is partnering with the NC Works Career Center to provide career readiness services and job placement support, and local employers including SAS, IBM, and HCL Technologies are eager to hire trained talent.
Ready to get started? Learn more at techhire.waketech.edu
100% of the TechHire Project SECURE grant is financed by the US Department of Labor Employment and Training Administration grant project # HG-29368-16-60-A-37, which provides a total of $3,965,670.00 in funding. Additional resources valued at $1,558,233 have been leveraged by project stakeholders as contributions to ensure program success.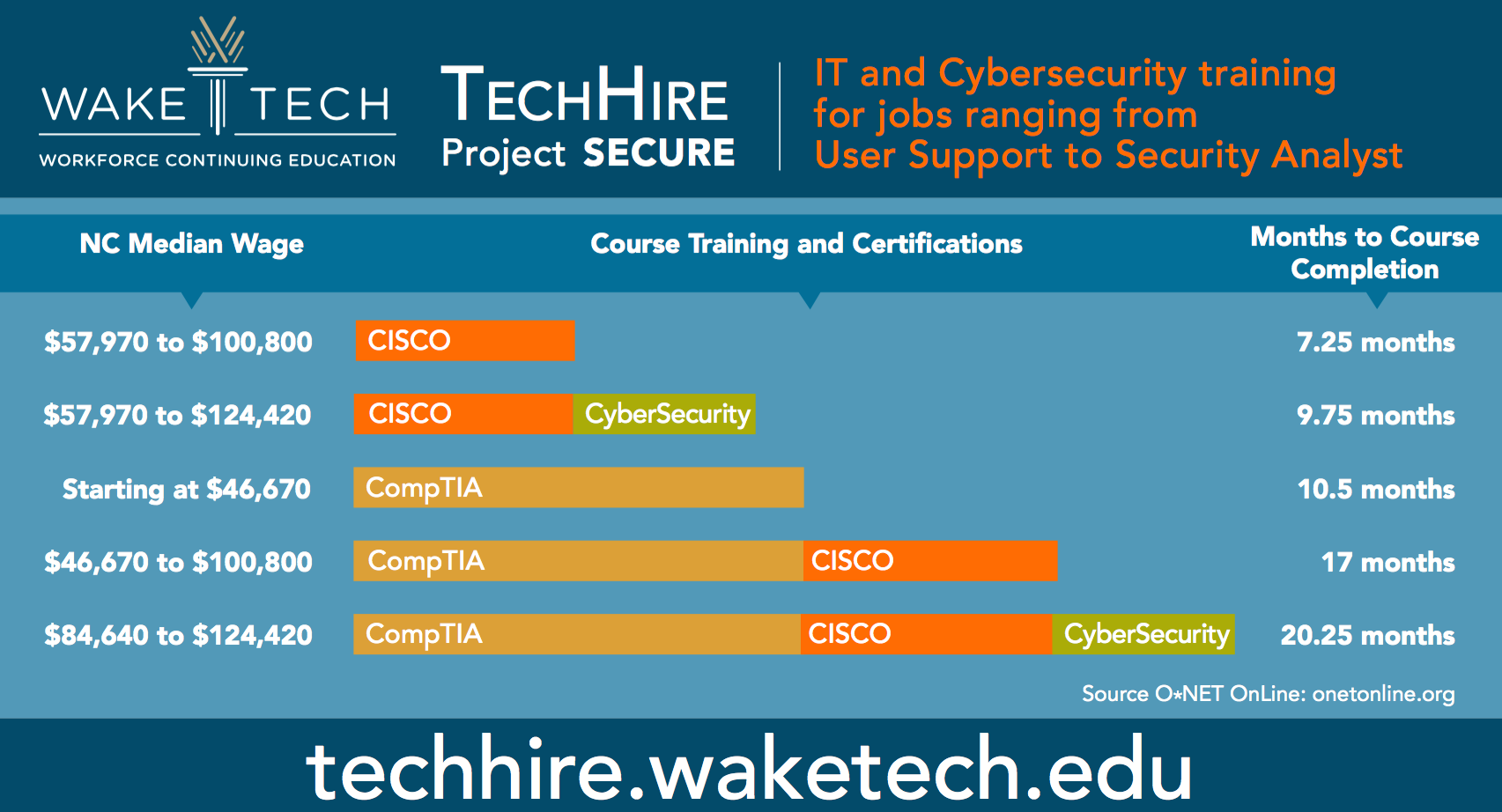 Request more info