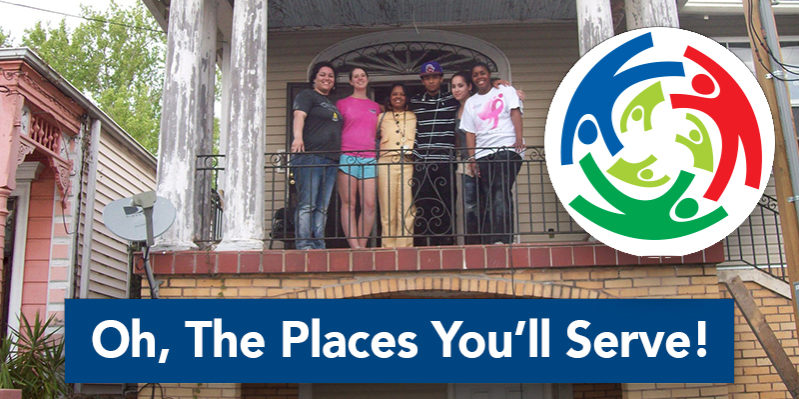 For many college students, spring break means fun in the sun, beaches, and parties. But Wake Tech students have discovered an alternative – one that's about helping others instead of focusing on themselves. Wake Tech's Office of Volunteerism and (Student) Leadership, or OVAL, sponsors Alternative Spring Break trips as a way to help students learn how to serve their communities. This spring, OVAL is partnering with the United Way on an Alternative Spring Break in New York City, where students will focus on hunger and homelessness and have opportunities to work in soup kitchens, food pantries, and homeless shelters. The goal is to educate students about civic engagement and help them gain awareness and skills for becoming more involved at home.
"These trips are a great way for students to learn the systemic causes that lead to food insecurity, homelessness and a variety of social justice issues, and to understand the importance of getting involved," says Melody Henderson, Coordinator of Volunteerism and Student Leadership. "The hands-on experience never fails to have an impact, and a lasting one."
OVAL started offering Alternative Spring Break Trips five years ago, when a small group of students and staff went to New Orleans to assist in recovery efforts after Hurricane Katrina. The group found that there was still a great need for help, and that the city had actually created an infrastructure to support volunteers and their efforts. The students also learned about the damage to the levies and got to witness the problems caused by contractors who took money but failed to complete work.
Since that first trip, the Alternative Spring Break program has grown significantly. In 2016, 14 students traveled with two staff members to Selma, Alabama, to help children in the city schools, which are still racially segregated. The students wanted to be a positive influence in the children's lives, playing with them and helping them with schoolwork. This service learning trip also included history lessons, tours, and training adapted from Dr. King's principles of nonviolence.
Wake Tech student Mohammed Lafi had never volunteered before the Selma trip but said, "Once you get a taste of helping people, it makes you want to come back." The trip had such an impact that Mohammed entered a summer internship with Something New, OVAL's partner organization in Selma. "When I started at Wake Tech, I was in my own bubble with my own group of friends," Mohammed says. "Getting to know other students on this trip really opened my eyes to people from different backgrounds – people I never thought I'd get to know. We all shared a common goal to help others." Mohammed will be a leader on the trip to New York City. His co-leader will be Manny Gracia, who also went to Selma. "We're products of our environment," Manny adds. "If you're never exposed to the diversity of people, cultures, and challenges, you may never know what's out there."
OVAL expanded the program last fall with its first Alternative Fall Break, to Asheville, NC. OVAL partnered with the YMCA of Western Carolina Youth Nutrition Program to provide fresh produce and nutrition education in low-income neighborhoods. Volunteers also delivered fresh produce to families in low-income areas, assisted with food pantry maintenance efforts onsite, and visited one YMCA afterschool program to teach children how to make healthy, fun snacks at home.
These trips are among a variety of initiatives OVAL sponsors throughout the year. Volunteer opportunities are available weekly at the Wilmington Street Men's Shelter, Read & Feed, the Inter-Faith Food Shuttle, and Habitat for Humanity. Students are encouraged to track their service hours on Wake Tech Xtra for a Co-Curricular Transcript they can use when applying for a job or university transfer. For more information about the Office of Volunteerism & Leadership and Wake Tech's Alternative Break programs, visit oval.waketech.edu.