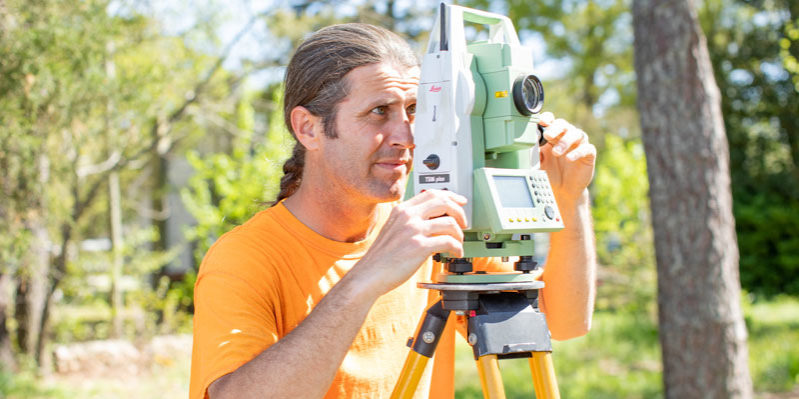 Tommy Powers had 10 years of experience in surveying, but never had a degree or the credentials to move ahead. Now he's back at college to obtain both. This busy husband and father of four has been able to continue working in the field by attending classes online. "Online classes made this program a reality for me," Tommy says. "The schoolwork can be done in the comfort of your home. The classes are set up great and communication with instructors is easy through email, phone, or in person."
Surveyors gather precise measurements of the earth's surface for engineering and construction projects. Civil engineers use that data to design, build, and maintain infrastructure projects such as roads, bridges, buildings, and water systems. Due to booming growth in the Triangle, skilled Civil Engineering and Geomatics (surveying) professionals are in high demand. Fortunately, students in these two associate degree programs now have more convenient class options than ever before. Responding to input from students and counselors, many Wake Tech civil engineering and geomatics courses are now offered online, in the evenings, and on Saturdays.
"Wake Tech is all about student success and meeting our students where they are," says Dean Lora Eddington. "We recognize that many of our students are working adults. We think adding more convenient class options will be a great benefit." Students in online classes have the opportunity for hands-on learning though open labs and on Saturdays.
The goal is to make classes more accessible to help increase the number of students who complete degrees and industry credentials. It's all about preparing students for jobs and career advancement. "The classes and certificates at Wake Tech are propelling me to the next level in my career and personal life," says Tommy Powers.
"For our Geomatics and Civil Engineering graduates, the job market is great right now," says Beth Ihnatolya, Instructional Program Director. "Local companies want our students."
If you love the outdoors, like to solve puzzles, or have a passion for project management, a civil engineering or geomatics career may be for you! Learn more at waketech.edu/programs-courses/credit or call 919-866-5334. 
Sample Courses
Civil Engineering
Soils and Foundations

Surveying/CAD

Highway Technology

Project Management
Geomatics
Surveying

Surveying Law

Topo/Site Surveying

Field and Office Practices