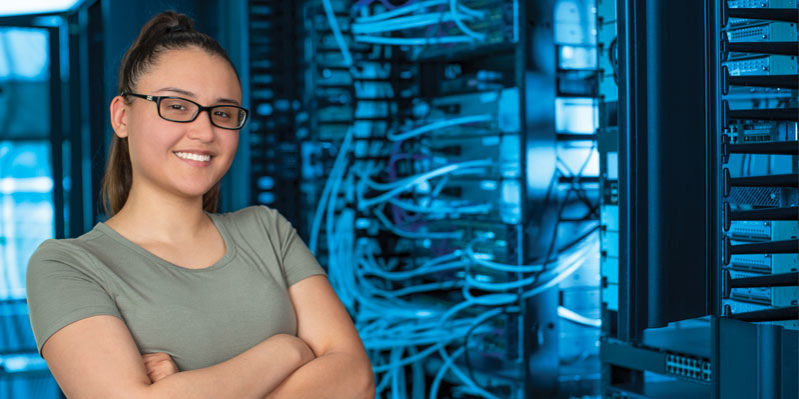 We live in an increasingly digital universe – and as our everyday lives depend more and more on computer technology, our need for cyber security grows. That's why cyber security professionals are in such high demand. These skilled technicians protect our most valuable data, from personal information to bank accounts and medical records.
"Cyber security touches all industries – from IT and communications to healthcare, finance, and retail commerce," says Keith Babuszczak, dean of Wake Tech's Computer Technologies division. "We want all our transactions to be safe and secure, whether we're making a purchase with a credit card or simply checking out at the grocery store."
There is reason for concern: According to Tripwire, the FBI received more than 2,600 complaints about the malicious software known as ransomware in 2016. In 2015, there were more than 112 million healthcare data breaches. The challenge of protecting critical information and infrastructure has made cyber security one of the world's fastest-growing fields. Cyber Seek data shows that North Carolina companies posted 13,000 cyber security positions between September 2017 and August 2018. There's just one problem: There aren't enough qualified cyber security technicians for the jobs!
Wake Tech is trying to change that. The Associate in Applied Science (AAS) degree in Cyber Security covers a wide range of technology concepts, including defense in depth, ethical hacking, network vulnerabilities, secure communications, system and security administration, data recovery, routing and switching, computer investigations, industry best practices, and digital forensics. Courses are taught by certified and credentialed instructors who are industry experts in information security and networking.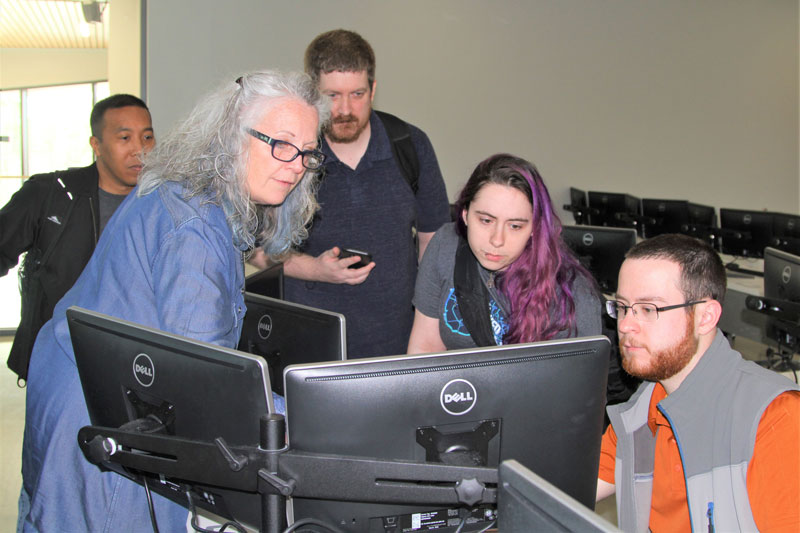 "The cyber security curriculum provides students with practical technical skills," says Carolyn DeSimone, director of Wake Tech's Network and Computer Technology program, "and really helps them stand out in the field."
Students learn how to handle sensitive data situations – for individual and corporate users – through the program's hands-on labs and virtual infrastructure. They learn how cyberattacks are staged against networks and how to address them and diminish their impact. They also gain the skills to develop and integrate security strategies that can prevent and defend against future attacks.
In instructor Barbara Warner's Advanced Forensics class, students learn how to be cyber detectives. They examine crime scenes for digital evidence and learn how to collect and examine it legally. They analyze cell phone data with the equipment used by police and government agencies. They practice testifying about evidence in court on the classroom's mock witness stand. Warner, who came to Wake Tech five years ago after a 36-year career at IBM, is passionate about her students: "One of my students was offered a job at the National Security Administration (NSA). Local tech companies, including Lenovo, IBM, Red Hat, and Cisco also hire them – they are in high demand!"
Robert Smith is one of those students – he landed a full-time job providing high-tech support at Cisco before graduating from the program! "Wake Tech has prepared me well for this job," he says. "I have the skills I need to be successful – I'm very excited!"
Student Ariel King says she's ready to break the glass ceiling in cyberspace. "My instructors have given me lots of encouragement, telling me that being female, bilingual, and making that extra effort will give me a foot in the door in either a business or public sector job."
Cyber security students can also take advantage of Wake Tech's work-based learning program, which offers students the opportunity to earn academic credit while working in their field of study. "These students are highly sought after," says DeSimone, "It's a great opportunity to apply what they learn in an actual workplace." Graduates of the program have a variety of options with both regional and national tech companies. They're prepared for IT careers in network security services, systems administration, ethical hacking, and digital forensics; and they're ready for industry certifications that include Certified Ethical Hacker, Certified Enterprise Defender, CCNA Security, and Security+.
Wake Tech also offers a short-term, non-credit cyber security training program through Workforce Continuing Education. The program condenses material into a shorter span of time and focuses on preparation for certification exams, such as those for CompTIA and Cisco certifications. If students decide to enroll in the AAS degree program, these certifications can count for course credit.
Once armed with the skills they need for a career in cyber security, students can look forward to excellent pay. According to Chmura JobsEQ, the entry-level salary for an information security analyst in the Triangle is $71,900; the median salary is $95,800. Not a bad reward for saving the cyber universe – and no cape required!
You can learn more about Wake Tech's Cyber Security degree program at ct.waketech.edu. For information on short-term training and certification prep programs visit workforce.waketech.edu.
Cyber Security Program Options
Southern Wake Campus or RTP Campus

Daytime or evening classes

On campus or hybrid (seated/online)