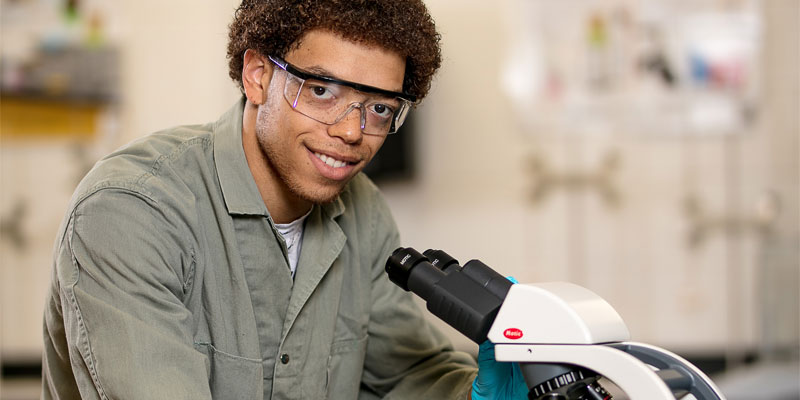 Wake Tech Meeting the Needs of a Booming Industry 

The race to develop vaccines during the COVID-19 pandemic has focused a spotlight on the booming biotechnology industry – and the critical work being done in labs here in the Triangle and around the globe. Biotechnology, the use of living organisms to develop and create products, is very big business in North Carolina, and Wake Tech is committed to meeting the demand for a highly-skilled workforce.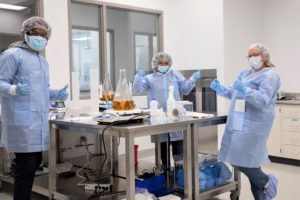 The college was a vital part of the equation for FUJIFILM Diosynth Biotechnologies when the company chose Holly Springs, NC, for its $2 billion biomanufacturing facility. Wake Tech will lead new employee training for the site and has offered FUJIFILM temporary space at the RTP campus, in Morrisville, for hiring and training.
FUIFILM's announcement is part of a rapidly growing trend. According to the NC BioNetwork, the state has experienced a 31% increase in bioscience jobs since the year 2000 – four times the national growth rate. Many Triangle companies are focused on manufacturing as well as pharmaceutical research and development.
That's why Wake Tech now offers two biotechnology degrees as well as a variety of short-term training programs to meet the needs of industry and offer students valuable career tracks. The programs emphasize good manufacturing and laboratory practices, and instructors bring experience in chemistry, microbiology, manufacturing, engineering, quality control, and other areas.
Biopharmaceutical Technology, AAS degree
Wake Tech's Associate in Applied Science (AAS) degree in Biopharmaceutical Technology focuses on the manufacturing of medicines.
Biotechnology, AAS degree
Wake Tech's newest program is the AAS degree in Biotechnology. It focuses on the skills required for work in local laboratories. This work requires attention to detail along with an appreciation of chemistry, microbiology, genetics, and other traditional sciences.
BioWork, non-degree
Wake Tech's non-degree training programs in biotechnology offer short-term classes and certificates. BioWork, for example, is a certificate program that prepares students for entry-level process technician jobs in the chemical, pharmaceutical, or biopharmaceutical fields. This is one of 21 WakeWorks Propel programs currently being offered free of charge to those who qualify.
BioWork serves as a foothold into an entry-level position, and through prior learning credit can serve as a foothold into Wake Tech's Biopharmaceutical Technology degree program. Justin Skillern is enrolled in both simultaneously. The 25-year-old student says he likes learning the skills and processes needed to manufacture products in a safe and clean environment. Skillern, a U.S. Army veteran, chose biotechnology as a career because he wants to help people. "I feel like I am taking on a new 'fight,'" said Skillern. "This is giving me a new sense of purpose – helping others in need." His goal is to work as a quality control manager while he continues his education.
When Skillern graduates, he'll have the option to continue his education by transferring into the Bachelor of Science in Industrial Technology degree program at East Carolina University. And then, when future skills-focused lifelong learning is needed, he may pursue future training at the NC BioNetwork Capstone Center, operated by Wake Tech on NC State's Centennial Campus. The Capstone Center features a simulated biomanufacturing environment, state-of-the-art classrooms, industrial-grade equipment laboratories, and a certified cleanroom suite.
This scenario is an example of how Wake Tech focuses on all of the rungs of the career ladder.
"We have a real opportunity to serve the community and move biotechnology education and training to new heights," said Leslie Isenhour, newly-named head of Wake Tech's Biotechnology Department and director of the BioNetwork Capstone Center. "I look forward to building relationships with industries, collaborating with other educational institutions, and seeing our students succeed," she says.
Wake Tech's commitment to biotechnology is also evident in the expansion of the RTP campus: The campus's second building will be a new biotechnology center. The 66,000 square foot facility, opening this fall, will have classrooms and science labs, an aseptic cleanroom suite, an apprenticeship hub, and an area designed for a future Early College partnership with Wake County Public Schools. The $33.4 million project is supported by Wake County bond funds.
Wake Tech President Dr. Scott Ralls believes the new biotech building will be an incredible asset for Wake Tech and the entire region.
"Some of the best-trained biotechnology students in the country will come out of this building," said Dr. Ralls. "Students who want opportunity can come here for education and training and walk right into jobs that are just around the corner."
Training for jobs now, and for jobs of the future! Wake Tech is meeting the demands of our region's growing biotechnology industry while serving students like Justin Skillern with world-class teaching, state-of-the-art facilities, and a focus on every vital rung of his career ladder. "I chose Wake Tech because it offers the programs I need to build a successful career doing something I love!"
For more information, visit biotechnology.waketech.edu.
Potential jobs in Wake County with AAS Biotechnology Degree:
Biological Technician: Entry level

$37,420

/Experienced

$58,440

Chemical Technician: Entry level

$44,060

/Experienced

$64,040

Cytogenetic Technologist: Entry level

$37,420

/Experienced

$58,440
Booming Biosciences Industry in NC
3 in the nation in pharmaceuticals

$56.4 billion in annual economic activity/132,500 jobs

Biomanufacturing industry doubled in size from 2003 to 2018
Source: North Carolina Biotechnology Center