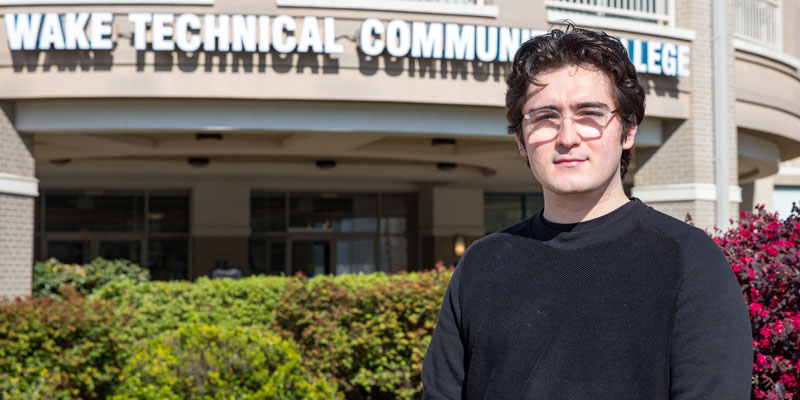 Students Learn About Money Management

The coronavirus pandemic took its toll on so many lives – and livelihoods, as people found themselves suddenly out of work. That was the case for Wake Tech student Pablo Torres Correa, who lost his part-time job at the same time that his father lost his. The family struggled to make ends meet, but it was not the first time.
"My parents are Columbian immigrants who have never really understood the monetary system here in the U.S.," Pablo says. "I grew up thinking that financial instability was normal."
Everything changed when Pablo attended a Student Money Management workshop at Wake Tech. Very few – if any – higher education institutions in North Carolina have a financial expert on staff to help educate students about money management. Wake Tech's Student Money Management program coordinator LaTonya Parsons offers workshops and one-on-one counseling, to help students learn about money and overcome financial barriers to success. She is committed to giving students the tools, resources, and financial education they need to be fiscally responsible now – and in the future.
"Everyone, at some point, has to make financial decisions," LaTonya says. "Many college students haven't been exposed to concepts such as budgeting, banking, or credit and how it works."
Pablo picked up some valuable tips in that first workshop and followed up with LaTonya for some personalized coaching. They met often, and Pablo says he learned a lot. "In one meeting," he says, "she helped me get approved for my first credit card so that I could start establishing credit. She has helped me with budgeting, and getting my taxes organized."
"There's no shame in asking for help," LaTonya says. "I am humbled that students trust me to share in their financial journey. Success, for me, is seeing stories like Pablo's unfold."
Pablo says LaTonya inspired him to take control of his finances. He now has a job and owns a car, and he knows how to make informed financial decisions. "Ms. Parsons taught me that I could achieve any financial goal with a little bit of planning and a whole lot of knowledge."
Best of all, he says, he has been able to share his knowledge with his parents, and that has made a difference for the whole family. He's now on track to make a down payment on a condo. He plans to attend NC State after he graduates from Wake Tech, with the goal of going to law school someday.
"I realize now that I can dream bigger!" Pablo says. "The student money management program gave that to me."
The Wake Tech Student Money Management Program is supported in part by Truist. 
To learn more, visit moneymanagement.waketech.edu.
Student Money Management Pillars
Inform

students by providing tools and resources

Empower

students to take control of their finances

Inspire

positive financial habits that will last a lifetime

Support

students through workshops and coaching