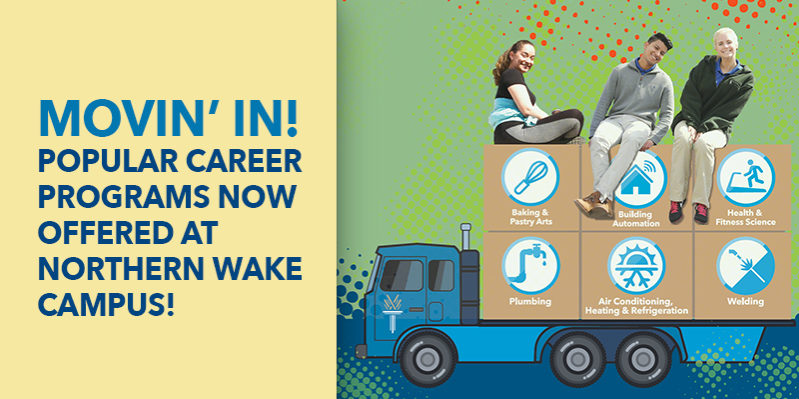 Popular Career Programs Now Offered at Northern Wake Campus!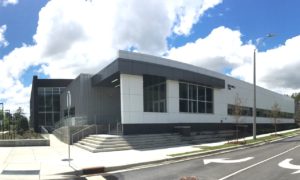 How do they do it? Make a tiered lemon chiffon wedding cake with rosettes that match the bride's gown? Weld metal that strengthens skyscrapers? Fix air conditioning systems during the dog days of summer? Keep sedentary workers active and in shape?
They do it with specialized knowledge, skill, and the hands-on training Wake Tech is known for. Now, for the first time, training in these highly-specialized fields is coming to Wake Tech's Northern Wake Campus, on Louisburg Road near I-540. New facilities, shiny new labs, and the latest technologies and equipment are enabling the college to expand and enhance these programs. They will be able to train more students and help more of the region's citizens become engaged and employed.
"Ten years ago, we celebrated the opening of this campus," says Wake Tech President Dr. Stephen Scott, "and the exciting prospect of bringing college transfer programs closer to students in the northern part of Wake County. We're now thrilled to be able to bring career programs here that are designed to put people to work as soon as they graduate!
Putting people to work quickly is not an exaggeration – in fact, 90% of students who graduate with an Associate in Applied Science degree in a Wake Tech Career Program are employed within 90 days!
That's precisely what Nathan Eriksen is hoping for: He loves hands-on work and is excited to be training for a career as a welder. "There are lots of benefits to this," Nathan says. "I'm learning skills I'll have and use forever!"
Welding is just one of the career programs being added to the Northern Wake Campus. Others include Plumbing; Air Conditioning, Heating & Refrigeration; Building Automation; Health & Fitness Science; and Baking & Pastry Arts.
Chief Campus Officer Rebecca Neagle says the specialized programs are a brilliant next step for the Northern Wake Campus. "We've built a reputation as a forward-thinking campus, focused on students who want to go on to earn advanced degrees. We're now broadening our scope to make the same high-quality, future-focused education and training available to students who are eager for immediate employment and career engagement."
For Jade Robinson, a student in Air Conditioning, Heating & Refrigeration, having classes so close to home is a godsend. "I was ecstatic when I heard this program would be offered at Northern Wake!" he says. "It's a lot more convenient for me, and it saves me gas money!"
The Northern Wake Campus is built on 127 acres along Louisburg Road and currently has eight buildings, two parking decks, a three-story library and learning commons, a 300-seat lecture hall, a high-tech STEM lab, tennis and volleyball courts, and all the services and amenities of a robust Wake Tech campus, including admissions, advising, and financial aid. New facilities include a state-of-the-art kitchen; expansive welding, plumbing, and HVAC labs; and a 15,000-square-foot gymnasium with the latest fitness testing equipment.
"We're very excited about the Health and Fitness Science facility – and all the amenities the Northern Wake Campus has to offer," says Jamie Pearson, department head for the Health & Fitness Science program. "And we plan to take advantage of them! We're preparing students for careers in so many fascinating fields – and the job market in all these areas is incredibly promising."
The Northern Wake Campus also has the distinction of being the first college or university campus in the United States where all buildings are LEED® certified by the U.S. Green Building Council. (LEED® stands for Leadership in Energy and Environmental Design and signifies that buildings are constructed to the highest environmental standards.)
Stay close to home and prepare to "move in" to a career in one of these high demand fields! Financial aid and scholarships available! admissions.waketech.edu.
Career Programs Northern Wake Campus
Baking & Pastry Arts
Get skilled in the art of baking, cake decorating, and pastry design.
Health & Fitness Science
Prepare for a career as a wellness coach, personal trainer, or exercise instructor.
Welding
Skilled welders are the backbone of the industrial world and are in high demand.
Plumbing
Learn to install and service plumbing systems in residential and commercial buildings.

*New Opportunity! Backflow Prevention Certification
Air Conditioning, Heating & Refrigeration
Design, install, and service HVAC equipment in residential and commercial settings.

*Two Days, Two Years, One Degree – The AHR Fast Track
Take classes two days a week, and be available to work the rest of the week!
Building Automation Systems
Become an expert in "high performance" buildings and stay ahead of changes in environmental regulations with this new AAS degree program!
*See more below
Building Automation Systems
As one of the most environmentally friendly college campuses in the U.S., the Northern Wake Campus is the perfect place to launch a new career program: Building Automation Systems. As stringent environmental regulations are established for new buildings – and existing buildings are retrofitted – there is an increasing demand for highly-trained technicians to operate and maintain complex "high performance" buildings. They must know about a variety of building systems, including HVAC/R, lighting, building automation, energy management, security, and indoor air quality. Potential careers include Building Controls Technician, Energy Auditor, Facilities Manager, and Indoor Air Quality Specialist. Learn more at buildingautomation.waketech.edu.