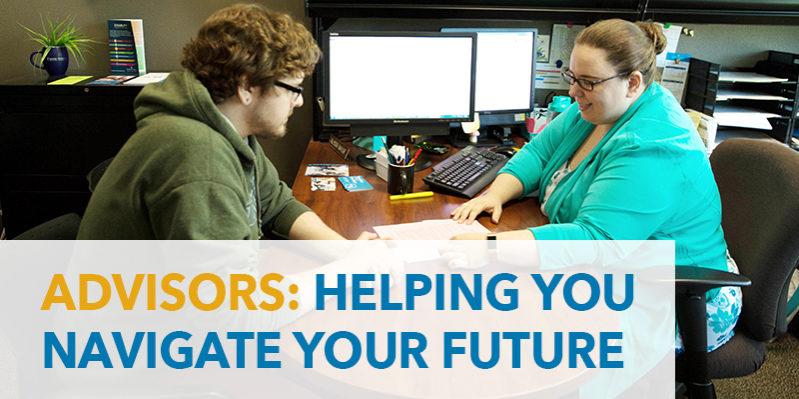 Completing your college education is much like taking a trip. Most students know their starting point but don't know exactly how to get to their final destination. For some students, the journey might be like a trip from Raleigh to Charlotte, while for others, it's more like a cross-country adventure! Regardless of the journey, advisors help students navigate: identify a plan for reaching the desired destination, re-calculate when obstacles arise and cause detours, and take advantage of resources and opportunities outside the classroom, to get the most out of their journey. Think of Wake Tech advisors as personal navigators for college success!
Just as there are many routes to choose from when traveling, there is no one perfect route to reach your final destination, be it employment or admission to a university. When students first come to Wake Tech, they meet with their advisors to explore goals and determine a plan that fits their needs. If you aren't sure exactly which direction to take, an advisor can connect you with resources to help clarify your plan. When you're ready to choose a path, you'll learn about program requirements and plan your first semester.
At Wake Tech, advisors are more than course planners or gatekeepers for registration – they're knowledgeable advocates who can help you overcome challenges, from a difficult course to questions about your career choice. Advisors can help you formulate a plan to tackle those obstacles, connect you with college and community resources, and encourage you to keep going.
Wake Tech advisors encourage students to meet with them every semester – and with technology, it's easier than ever! You can meet in person or by phone, email, chat, or social media. "It helps students to have a point person on campus," says Advisor Christie Richards. "They feel comfortable enough to come back, and to ask questions."
Graduation day is not just a special occasion for students and their families: it's a favorite event for advisors as well. Advisors want to see students succeed and meet the goals they outlined at the beginning. Whether headed to a job or a university, graduates have gained valuable knowledge, practical tools, and confidence from advisors for the next phase of their journey.
Any journey can be tricky, so why do it alone? As Advisor Allyson Naylor says, "One of the most rewarding aspects of my position is being able to connect students to resources they weren't even aware of."
Learn more at advising.waketech.edu.
Top Ten Reasons to Meet with An Advisor
10  Learn about campus resources
9  Find out when transfer colleges will visit
8  Review and understand test scoress
7  Confirm transfer credit
6  Decipher registration error messages
5  Learn about transfer options
4  Find out about adding or dropping a class
3  Change or add a program
2  Plan next semester's courses
1  Understand the requirements for your degree