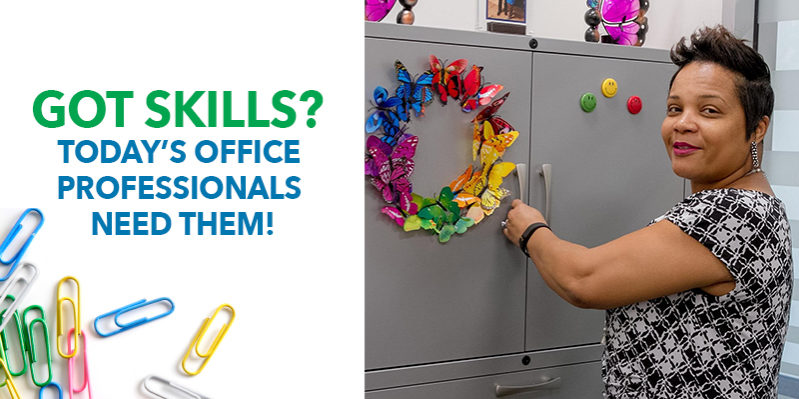 Looking for a great job in a field that's always in demand? With our aging population and daily advances in medicine, health care continues to hold some of the most promising career opportunities and options.
But what if you don't like the sight of blood – or just don't think you're cut out to work with patients?
Health care has plenty of other career options to offer! Medical facilities need skilled staff for billing and coding, electronic record-keeping and other functions. That's why Wake Tech now offers three specialized degrees in Medical Office Administration.
"Health care is changing so rapidly," says Department Head Paula Rosen. "Work in any kind of medical setting today requires knowledge and skill, and more preparation than ever before."
Consider a degree in Healthcare Administration. It can prepare you for a career in medical office management at a hospital, outpatient clinic, or other health care facility. If you're good with numbers and details, a Medical Billing and Coding degree can prepare you for the most complex insurance and billing situations. The Medical Office Professional degree gets you ready to manage the many moving parts of a bustling medical office.
All these degrees are available online, and all prepare graduates to take industry-recognized certification exams.
"I've been taking classes online, and it's worked out very well!" says Mary Barton. The mother of six hopes to get career skills under her belt so she can work part-time in a doctor's office as her children get older. "Online classes fit perfectly with my lifestyle," Mary says. "The technology has worked smoothly and the teachers have been very responsive and helpful."
For those not interested in health care, Wake Tech offers four other specialized Office Administration degrees: Office Professional, Office Finance, Office Software, and Legal Office. Graduates of these programs work in corporations, government agencies, financial institutions, real estate offices, and law firms.
Angela Smith, a 2015 graduate, came to Wake Tech after years of work as an administrative assistant. "I had experience, but I knew with technology advances I still had a lot to learn." Angela is now employed in a busy administrative office at Wake Tech!
The Office Administration degree programs, like the medical programs, are offered online, and include a work-based learning component. Wake Tech partners with area employers to provide on-the-job training in a variety of settings. Those interested in continuing their education can transfer to NC Wesleyan College to complete a Bachelor of Science degree in Organizational Administration.
For more information, visit oa.waketech.edu.
Possible Careers
Office Administration
Office Professional
Office Finance
Office Software
Legal Office
Medical Office Administration
Medical Office Professional
Medical Billing and Coding
Healthcare Administration
Sample Careers and Median Salary
Administrative Assistant $45,000
Office Manager $50,000
Patient Services Representative $45,000
Medical Coder $55,000
Healthcare Financial Counselor $55,000