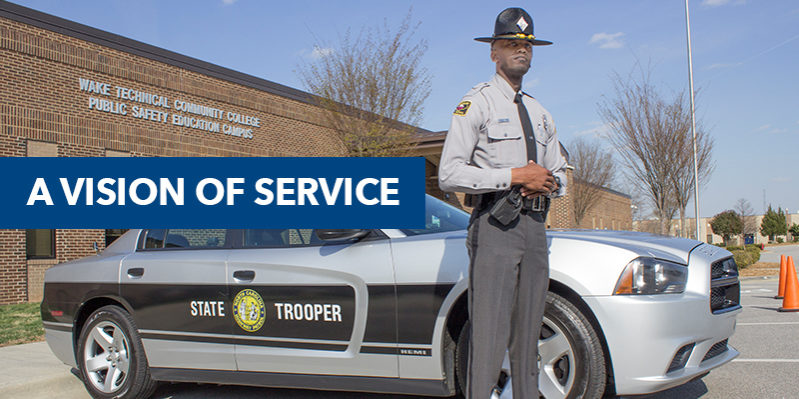 Meeting the Challenges of Basic Law Enforcement Training
Roderick Williams had a clear vision: to have his very own NC State Highway Patrol cruiser sitting in the driveway. But realizing that vision presented challenges.
Roderick enrolled in NCSHP training in 2012 but failed the state exam. He then enrolled in Wake Tech's Basic Law Enforcement Training (BLET) Academy, but finances forced him to drop out. Unlike more than half of BLET cadets – whose training is paid for by sponsoring law enforcement agencies – Roderick had to pay his own way. He didn't want to give up his dream, however, so in 2015, after working several jobs and saving, he applied to Wake Tech again and joined the 10-month night class.
The BLET Academy offers day and nighttime options. Night class meets for five hours, four nights a week. Outside of class, cadets have to make time for regular workouts, to meet the physical and mental demands of the training and pass the POPAT (Police Officer's Physical Ability Test). The timed skills test includes running, push-ups, rolling with a 100-pound grappling bag, scaling a 4-foot fence, and dragging a 175 pound mannequin.
"We're preparing students to be public servants, and they'll be expected to meet the highest standards of performance and personal behavior," says Jon Gregory, BLET director. "In addition to fitness training, Wake Tech cadets learn first responder skills, criminal law, officer survival training, and law enforcement-related computer software."
The job market for entry-level law enforcement officers is strong, according to Gregory. Wake County has a number of small town and specialty law enforcement departments, and many current officers are nearing retirement age.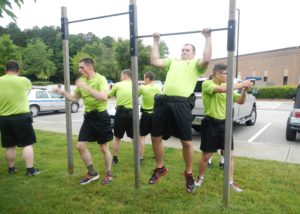 After years of pushing himself and refusing to give up, Roderick graduated from Wake Tech in the spring of 2016. The college helped him connect with Highway Patrol recruiters, and he's now a North Carolina State Trooper– with his very own patrol car!
What would he tell those thinking of applying to BLET? "Make sure you're ready for the challenges of the training. You'll need a support system to be successful, and Wake Tech is second to none!"
Cadet positions are highly competitive; only 28 students are accepted for each class, and students must have a good driving record and a clean criminal record. Ready to challenge yourself and become a law enforcement officer? Learn more at blet.waketech.edu or call 919-866-6122.