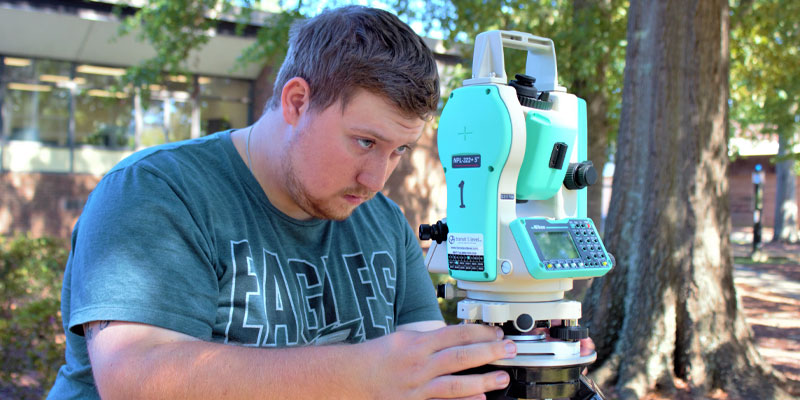 Careers in Science, Technology, Engineering and Math (STEM) are in high demand in the Triangle, and that means STEM education is vital for preparing tomorrow's workforce. There is no better place to get that education than Wake Tech – Wake County's STEM college!
Wake Tech's STEM Academic Research & Training (START) program and STEM Lab, on the Scott Northern Wake Campus, offer exciting opportunities. Students who are accepted into the program choose a research project in biotechnology, microbiology, genetics, geology, ecology and math and work alongside a faculty mentor. Research is conducted in the unique state-of-the art lab, which features a chemical fume lab, a bio-safety cabinet, an orbital shaker, centrifuges, microscopes, and 3D printers.
And the START program is about to get a huge boost from a nearly $1.4 million National Science Foundation grant. The grant will be used to create paid internships in lab-based research with university partners NC State, UNC-Chapel Hill, and NC A&T.
"Early exposure to undergraduate research allows our students to explore some of the many STEM professions," says Dr. Jackie Swanik, Associate Dean of Mathematics, Sciences and Engineering at Wake Tech. "That helps them succeed here at Wake Tech and makes them more competitive when they transfer to four-year institutions." Dr. Swanik says the undergraduate research opportunity also helps community college science students develop their "science identity." "We are trying to emulate as much of the four-year experience as possible," she says. "If they can start to see themselves as professionals, it helps prepare them for careers in science and engineering."
Wake Tech Degree Programs in Science and Engineering
Wake Tech offers the Associate in Science (AS) university transfer degree, which provides a solid foundation in general education for students who want to pursue a four-year degree in areas of study such as IT, engineering, biology, chemistry, life sciences, health sciences, and other STEM disciplines. This popular degree allows graduates to transfer seamlessly to universities within the UNC System, as well as many private institutions.
The Associate in Engineering (AE) university transfer degree prepares students to successfully transfer into an engineering bachelor's degree program at a university. It requires a strong background in math and science. Wake Tech graduates can transfer to engineering programs at ECU, NC A&T, NC State, UNC-Charlotte and Western Carolina.
Dr. Chris O'Riordan-Adjah, Wake Tech's Department Head of Engineering, says the two-year university transfer degree is a smart starting point for future engineers. "Our classes are no larger than 25 students, so everyone gets more hands-on opportunities with projects and more opportunities to connect with instructors," he said. "They get a strong foundation and the transition to a four-year institution is also much easier after starting at a community college."
Another option are Applied Engineering degrees, which provide a faster track to a career in a variety of STEM-based disciplines:
Architectural Technology

Civil Engineering Technology

Construction Management Technology

Electronics Engineering Technology

Geomatics Technology (Surveying)

Interior Design

Mechanical Engineering Technology

Mechanical Engineering Technology/Mechatronics
Technicians in these fields perform quality assurance testing, complete design drawings, and carry out diagnostic, troubleshooting, and maintenance procedures on equipment. Median salaries for graduates of applied engineering degrees are between $27,000 and $67,000, with civil engineering and mechanical engineering graduates having the highest earning potential.
One of the newer applied engineering programs is the specialized mechatronics track within the Mechanical Engineering Technology program, which prepares graduates to work as mechanical technicians in many types of manufacturing, fabrication, research and development, and service industries.
Byron Latil oversees the Applied Engineering programs and says they're a good fit for students who are ready to enter the workforce. "The Applied Engineering path leads to a job more quickly than pursuing a four-year degree. The objective of these programs is to give students tangible, marketable skills that are relevant in today's workforce. In two years, they should be able to go to work as technicians in industries that will pay them a living wage and provide opportunities for advancement."
A great feature of these programs at Wake Tech is that they also offer transfer opportunities to four-year institutions such as ECU, NC A&T, and UNC-Charlotte.
What do students say?
Kevin Reza-Villa is pursuing both an Associate in Engineering and an Associate in Science degree, and said the hands-on research he's been involved in through the START program is helping him zero in on a career: "This is really helping me explore and figure out if I want to go into pharmaceutical engineering or become a pharmacist," he said. "I like to design things, but I also like science. Why go to school and not be happy with my career path? It might take me more time but I'm willing to put in the work because I want to enjoy what I'm doing for my career."
Sam Teague hopes to go on to medical school and study cardiothoracic surgery. He says the START program has been instrumental in his career decisions and sharpened research and laboratory skills that he'll carry with him. "This program has been absolutely fantastic for me and given me microbiological and medical laboratory skills," he says. "It's also given me opportunities to conduct real-world research and build skills that I know will help me advance in my career."
Denise Oracion wants to become an environmental engineer: "I came to Wake Tech after high school because it was a more affordable and practical path to my bachelor's degree," Oracion says. "Wake Tech is smaller and there are a lot of resources here, like the Individualized Learning Center, that help students like me succeed, and I'm grateful for that."
Ryan Antrilli is studying civil engineering and geomatics at Wake Tech. He says he hopes to one day land a job designing baseball stadiums or theme parks. "I've always liked math and building things, and civil engineering and surveying are centered around a lot of math," he said. "It would be an awesome career to build athletic stadiums and amusement parks for people to enjoy."
Learn more about Wake Tech's Associate in Science degree program at science.waketech.edu.
Learn more about Wake Tech's engineering and applied engineering programs at engineering.waketech.edu.
Popular Science Careers
Lab Technician

Biostatistician

Research Scientist

Technical Writer

Analytical Chemist
Popular Engineering Careers
Mechanical Engineer

Electronics Engineer

Chemical Engineer

Industrial Engineer

Civil Engineer