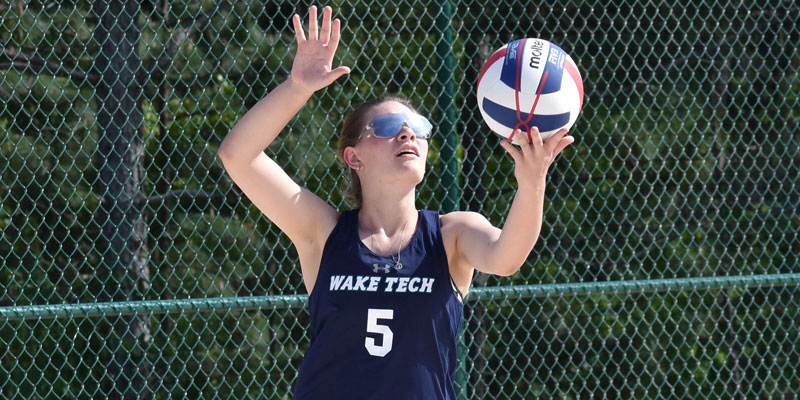 Since beach volleyball became an Olympic sport in 1996, the U.S. has reached the podium seven times – with teams winning the gold in 2004, 2008, 2012 and 2020. The sport continues to grow in popularity, with collegiate-level teams forming across the country.
Director of Athletics Brian Anweiler believes the time is right to get in on the action, and add beach volleyball for women at Wake Tech. "It's a logical move," he says, "since we have two well-maintained, regulation sand courts at the Scott Northern Wake Campus." Beach volleyball is played in the spring and offers another opportunity for competitive play for students who play indoor volleyball in the fall.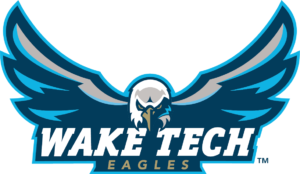 Volleyball has a strong history at Wake Tech. Since 2015, indoor volleyball has averaged more than 20 wins per season. Coach Brian Harris is confident that beach volleyball will be a benefit for Wake Tech athletes: "The sand courts and the speed of play will challenge our players and provide additional conditioning, both physical and mental." Students have the option to play indoor volleyball, beach volleyball, or both!
Beach volleyball originated as a way to have fun in the sun, but it is actually one of the most mentally and physically challenging sports. Over time, the rules of play have changed, leaving little similarity to the sport played inside. "Beach volleyball is played in pairs, and the court size, the size and weight of the ball, player positions, and scoring are different from court volleyball," says Coach Harris.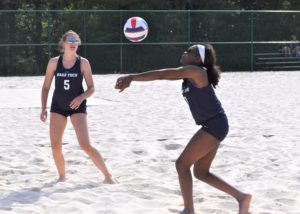 The first competitive season for beach volleyball at Wake Tech begins in 2022, but the Eagles tested out the sport at the club level in 2021. Coach Harris was impressed!  "COVID provided some challenges, but I was really happy with the student athletes who stepped up and provided a foundation for the future of this program."
As Wake Tech welcomes a new sport to its lineup and the Eagles ready themselves for the challenge, competition promises to be intense. "It'll be competitive at the state and regional levels." says Director Anweiler. "Several colleges have jumped on the beach volleyball bandwagon, and it will be exciting to see all of us grow and compete."
To learn more about beach volleyball and Wake Tech Athletics for men and women, visit waketechsports.com.