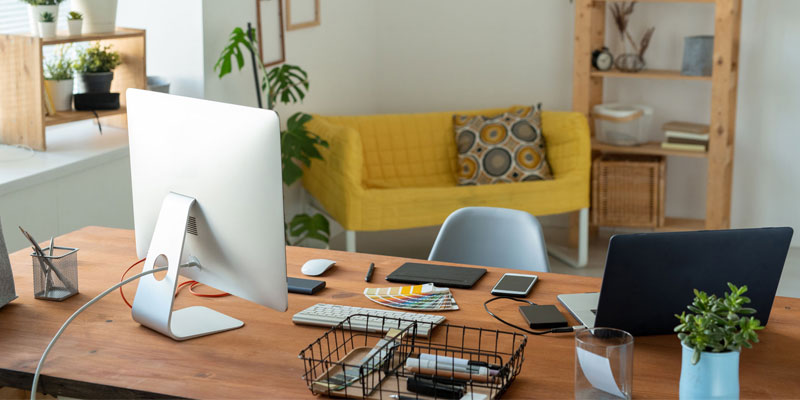 Telework: No Turning Back Now
When the pandemic hit in 2020, companies were forced to figure out ways to allow employees to work from home. Now, as offices open back up, businesses are trying to figure out the best way to bring them back – if at all! Big tech companies were among the first to shut down, leaving expensive corporate campuses vacant. Each company is approaching its telework policy differently: Twitter and Facebook are letting employees continue to work from home full time, while Amazon, Google and Apple prefer to have employees come back to the office, even if it's part time. Source: washingtonpost.com/technology/2021/06/04.
Open for Business
Among all industries, small businesses felt the biggest impact of the pandemic. Sources show that more than a third of small businesses across the U.S. totally closed their doors. In Wake County, more than 4,000 small business owners and entrepreneurs sought assistance from Wake Tech's StartUp Center to start a new business or keep their business afloat. The StartUp Center includes the college's Small Business Center's workshops and one-on-one counseling, and Entrepreneurship Initiatives, including LaunchWakeCounty – a community-oriented approach to small business support. startup.waketech.edu.
The Benefits of Reading
Reading for just six minutes a day can reduce stress levels by up to 68%, according to a study by the University of Sussex. Researchers found that reading actually works better and faster than other methods like going for a walk, listening to music, or having a cup of tea. Scientists believe that this is because the brain is forced to concentrate on reading and processing, and the distraction simultaneously eases muscle tension. Reading can be a welcome and healthy escape from the stresses of everyday life. The next time you're feeling overwhelmed but don't have a lot of time, try grabbing a book and reading a few pages.
Resource: Mindlab International, University of Sussex 2009.