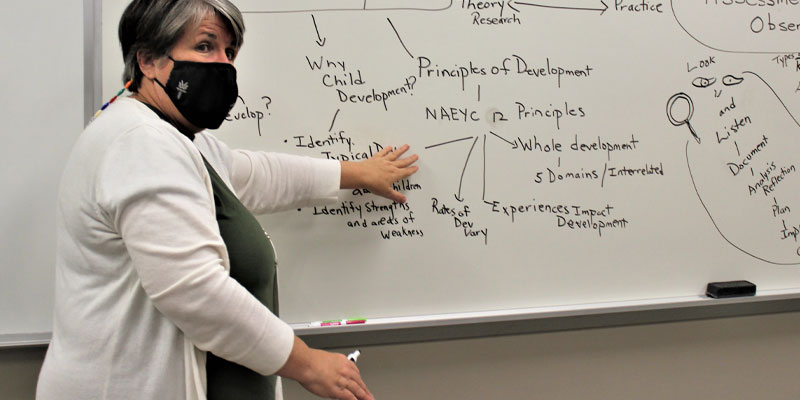 Melissa Hudson wants to make a difference – specifically, she wants to have a positive impact on the lives of young children as a teacher. "I've always loved working with kids," Hudson says.
Now, thanks to a new university transfer degree program, she can get started on that career path at Wake Tech. Hudson is enrolled in the Associate in Arts in Teacher Preparation program. The new program allows aspiring teachers to complete two years of courses at Wake Tech and transfer to a four-year college or university, where they can earn a bachelor's degree and become licensed as an elementary, middle or high school teacher.
The Associate in Arts in Teacher Preparation is designed for those who want to teach in the humanities or social sciences. Wake Tech also offers the Associate in Science in Teacher Preparation program, for those with an interest in STEM – science, technology, engineering and math.
Both teacher prep degrees are comprised of 60 credit hours of university transfer courses, including four courses focused on teacher education: Teaching and Learning for All, Foundations of Education, Literacy Development and Instruction, and Teacher Licensure Preparation. The program also includes a course in social diversity. Classes are offered in person, online, and in hybrid format. Graduates can transfer – with junior status – to one of 15 UNC System institutions, or to a host of other North Carolina colleges and universities.
Dean Catherine Lassiter says the goal is to help fill the local teacher pipeline: "North Carolina has long experienced a teacher shortage, and these degree programs allow community colleges to join the effort to train qualified teachers in our state. Starting at Wake Tech gives aspiring teachers a more affordable option for pursuing a rewarding career – and one that's closer to home."
Hudson enrolled in Teacher Preparation after completing her Associate in Applied Science in Early Childhood (birth through kindergarten) degree. "Initially, I saw early childhood education as my route to becoming a teacher," she says, "and financially, it made sense to start at a community college. But with this new degree, I'll have opportunities to teach older children as well. I'm excited that these programs will open up more avenues for people who want to become teachers."
Interested in becoming a teacher? Save money and stay close to home by starting at Wake Tech! Learn more at education.waketech.edu.
Wake Tech University Transfer Degrees
Associate in Arts (A.A.)

Associate in Science (A.S.)

Associate in Engineering (A.E.)

Associate in Fine Arts (A.F.A.)

A.A. or A.S. in Teacher Preparation