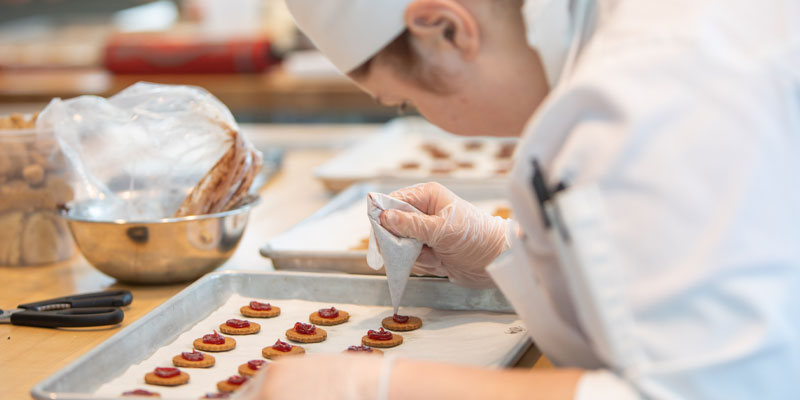 The hospitality industry is making a comeback! The COVID-19 pandemic dealt a staggering blow: Travel and dining out came to a halt, and hotels and restaurants closed their doors and sent employees home.
The National Restaurant Association estimates that in the first six months of the pandemic, nearly one in six restaurants – almost 100,000 establishments across the country – shut down. The American Hotel and Lodging Association reports that nearly four million hospitality jobs were lost in 2020.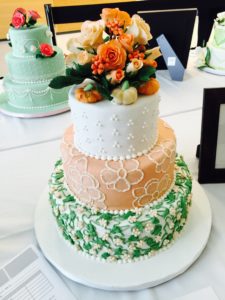 Now, almost two years later, hotels and restaurants are opening up but facing a new challenge: finding employees. That's why Wake Tech students in culinary and hospitality programs are in such high demand.
"Employers have always looked to us to meet their workforce needs," says Jane Broden, Wake Tech professor of Hospitality Management, "but we've seen the need surge to record levels because of the pandemic."
Broden prepares students for professional positions in hotels, motels, resorts, inns, restaurants, clubs, and other institutions as part of Hospitality Management, an Associate in Applied Science (AAS) degree program. Graduates qualify for a variety of positions including in the front office, reservations, housekeeping, purchasing, dining room, event planning and marketing. Students can choose a restaurant, event planning or hotel option within the program.
"Our Hospitality program is a huge asset to the industry," says Broden. "We arm students with the skills needed for success and show them the excitement and value that a hospitality career can provide."
Student Cara Harter says she chose a career in hospitality after taking an introductory course: "I knew right away I wanted to work in this industry. Professor Broden is so knowledgeable and supportive, and Wake Tech helped me find the right path!" Harter is pursuing the Hospitality Management degree and also plans to complete several certificates, including Culinary Arts and Hotel Operations. "I'm leaning toward event planning or catering," she says.
For those thinking about a career in the kitchen, Wake Tech also offers AAS degrees in Culinary Arts and Baking and Pastry Arts.
The Culinary program prepares students for positions as culinary professionals in a variety of food service settings, including restaurants, hotels, resorts, clubs, catering operations, contract food services, and health facilities. With experience, graduates may advance to positions such as sous chef, executive chef, or food services manager. Wake Tech's Culinary Arts program is accredited by the American Culinary Federation.
Wake Tech's Baking & Pastry Arts program prepares students for careers as bakers and pastry chefs. With experience, graduates can advance from entry-level positions to pastry chef, cake designer, or bakery manager. Employment opportunities include restaurants, hotels, independent bakeries and pastry shops, wholesale and retail markets, and high-volume bakeries.
All three programs also offer diplomas and certificates – shorter-term options that provide valuable knowledge and skills with less class time.
"There's an incredible demand for skilled employees in this industry right now," says Department head Jeff Hadley. "My phone is ringing off the hook! There's no better time to begin a hospitality career."
That's why Eddie O'Boyle decided to give hospitality a try. He's worked in IT for years but is ready for something new. "I looked around and saw the need in local restaurants and decided it was time for a change."
O'Boyle looked for a short-term option and discovered Wake Tech's non-degree classes offered at a variety of community sites. He signed up for a new program at A Place at the Table, a pay-as-you-go café in downtown Raleigh. The six-to-eight-week classes take place in the evenings when the café is closed to customers.
O'Boyle started with the Artisan Breads course, which covers the fundamentals of handcrafting bread for a bakery, café, or high-volume restaurant.  He says this is just beginning. "My ultimate plan is to leave IT and become a chef!"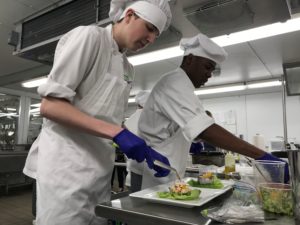 Basic Culinary and Basic Baking courses are also available at A Place at the Table, and all three courses lead to industry certifications. Students who complete one of these courses and go on to work for a Wake County hospitality employer for six months are eligible for a special scholarship.  The "A Place at Wake Tech Hospitality Scholarship," valued at $3,000, allows the recipient to continue his or her education in Wake Tech's Culinary Arts, Baking and Pastry Arts, or Hospitality Management degree programs.
Wake Tech also offers culinary and hospitality classes as at the Southeast Raleigh YMCA and the Public Safety Education Campus in Raleigh. ServeSafe, which covers the principles of food safety and sanitation in the service industry, is also available.
"There's definitely something for everyone," says Sameer Pawa, director of Wake Tech Hospitality Training Programs. Like Chef Hadley, Pawa says he gets calls almost every day from local employers seeking qualified workers: "Our students are all but guaranteed a job." 
Average Salaries in Raleigh
Chef: $45,942
Hotel Manager: $71,257
Source: indeed.com