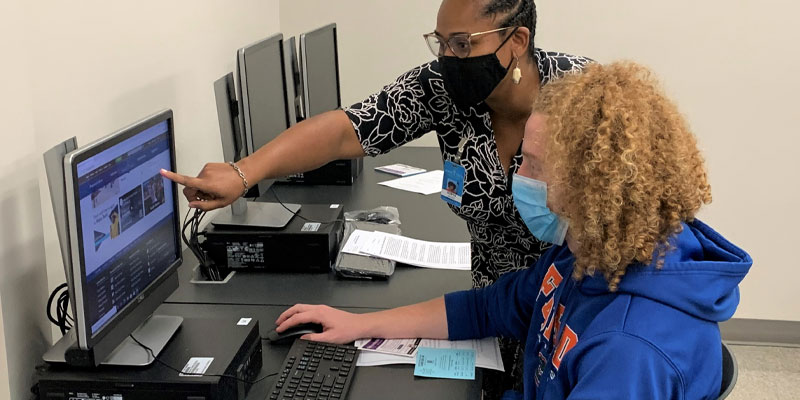 "Find a job you love and you'll never work a day in your life." Those words from Confucius are inspiring, but often easier said than done. Some people know what they want to do early in life, but for others, a future career is harder to visualize. And those who embark on one career trajectory may find they want a different one.
Wake Tech's Career Services has something for all these people: a holistic approach to crafting a career. Career Services offers expert guidance at every stage, from dreaming and planning to the reality of the job search, starting a new job, growing professionally, and seeking advancement. Best of all, these services are offered at no charge to Wake Tech students, those considering Wake Tech, and all Wake County residents who are unemployed, underemployed, or need assistance getting back into the job market.
Career Services Dean Lynn Kavcsak says the services are highly individualized: "Wherever you are in the process, we're here to help – and we'll be here for you in the future, to advise, counsel, or help you connect with an employer or further study and training."
Career Exploration
Career Services has a wealth of resources to help you start exploring! Seasoned career coaches will guide you during workshops, class presentations, and one-on-one sessions, in person or virtual. Get up-to-date information about the hottest local jobs, qualifications required, and salary outlook. Make an appointment or drop in at one of the many Career Lens Labs offered on several campuses. Complete a personal assessment to learn what fields are the best fit, then find the program of study that can prepare you for the career you want.
Student Keagan Cannon is interested in the field of psychology but needs guidance on her career path: "I'm hoping to figure out what exactly I want to do."
Danayja Dunn is trying to decide between nursing and physical therapy: "The assessment I took showed that I might be more suited for PT, since I have an athletic background."
Career & Professional Development
Once you know where you're headed, Career Services has the strategies to help you get there – whether you're a student preparing to hit the job market, a graduate embarking on a new career, or a professional who's unemployed, underemployed, or simply ready for a change. Find the assistance you need to write an impressive resume, polish your LinkedIn profile, prepare for an interview, negotiate salary, and more. With resources and support, you can proceed in your job search with confidence.
Employment Connections
Among Wake Tech's greatest strengths are its partnerships with local employers. Career Services has its finger on the pulse of the local job market – companies moving in, industries expanding, and small businesses who need skilled talent. The college offers career fairs with local employers, connections to work-based learning opportunities, apprenticeships through WakeWorks®, and job postings through College Central Network. Employers are eager to hire Wake Tech students and graduates!
Graduate Harpuneet Farmah had Career Services' support from start to finish. Exploration helped her zero in on a career choice – esthetics – and worked with her throughout her program. By the time she graduated, she had crafted a standout resume and polished her interview skills. Staff members even took her on a "field trip" to find a professional outfit for the interview! Farmah is now happily employed as a licensed esthetician!
"It has been amazing!" she says. "They have helped me in more ways than one. And they'll always be here for me, throughout my career!"
Ready for your next move? Opportunity awaits – and Wake Tech's Career Services is here to help you seize it! Visit careers.waketech.edu and get started today.
Ready for your next move? Opportunity awaits – and Wake Tech's Career Services is here to help you seize it! Visit careers.waketech.edu and get started today.
Career Planning Tools
waketech.emsi.com

(Career Coach)

careeronestop.org

mynextmove.org

glassdoor.com

virtualjobshadow.com

bls.gov/ooh
Discover more at careers.waketech.edu.