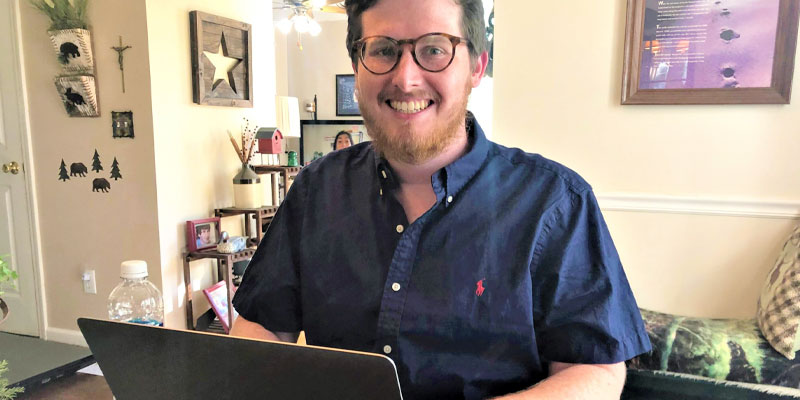 Wake Tech Online Offers Engaging Instruction and Helpful Resources 

Like many other institutions, Wake Tech transitioned to fully online classes in March of 2020 in response to the COVID-19 global pandemic. Wake Tech was uniquely prepared for that unprecedented situation: The college has spent more than 20 years investing in the infrastructure to support a robust "online college" and expanding access to online learning and support.
When COVID hit, nearly ALL of Wake Tech's faculty were already EPIC-certified, meaning that they were trained and prepared to teach online classes. EPIC is a Wake Tech innovation that also includes preparing students for online education, with an eLearning Introduction that all students complete before taking online classes.
"EPIC's eLearning Intro was extremely helpful," says Kenzie Hardy, who started online classes in the summer of 2020.
Kenzie is working on pre-requisites for Wake Tech's nursing program, and plans to continue online classes until she's ready for hands-on labs and clinical instruction. "I like the flexibility," she says. "Especially during the pandemic, it's been a great opportunity to stay home and stay safe, while pursuing my goals."
In a typical year, nearly 19,000 students take online classes at Wake Tech. About 8,400 students are fully online, and many of those are enrolled in one of the 100 fully-online degree, diploma, and certificate programs available at the college.
The quality of Wake Tech Online is getting noticed: The college is ranked by several national sources as the top online community college in the nation!
"We've spent more than a decade thoughtfully improving the quality of our online education," says Senior Vice President Bryan Ryan. "Our online students can expect the same quality instruction and academic support services that students receive in traditional, seated classes."
Wake Tech's Virtual Support Center offers a full array of virtual resources to support students even further – everything from advising and financial aid to library access, tutorial services, career and employment resources, and technology support.
Concerned about taking classes online? "Don't be," says Wake Tech engineering student Jordan Hale. Jordan says online instruction has come a long way since he first tried it seven years ago. "The technology has gotten a lot better," he says. "Blackboard is a lot more user-friendly, and with the addition of Microsoft Teams for collaboration, online learning is much closer to an in-person situation than it used to be." Jordan says he has been able to develop relationships with his professors and classmates in the virtual environment.
Loan Ly, also studying engineering at Wake Tech, points out that in addition to the eLearning Intro, each of her professors has presented a quick review of the technology at the beginning of the semester. "Before you even jump into the syllabus, professors give us a quick, 10-question test to make sure we know how to use Blackboard. The test asks which websites to go to, where to look for announcements, and other such questions, and it's a good refresher each time."
Wake Tech's online programs meet the same accrediting standards as all of the college's academic programs. If you've ever considered taking online classes, now's a great time to point and click your way to an exciting future! online.waketech.edu
---
Wake Tech Online
Here are some of the associate degrees offered 100% online.
AA – Associate in Arts (for University Transfer)

Accounting and Finance

Advertising and Graphic Design

Business Analytics

Criminal Justice

Medical Coding and Billing

Office Administration

Project Management

Supply Chain Management

Web Developer
For the complete list, visit online.waketech.edu.