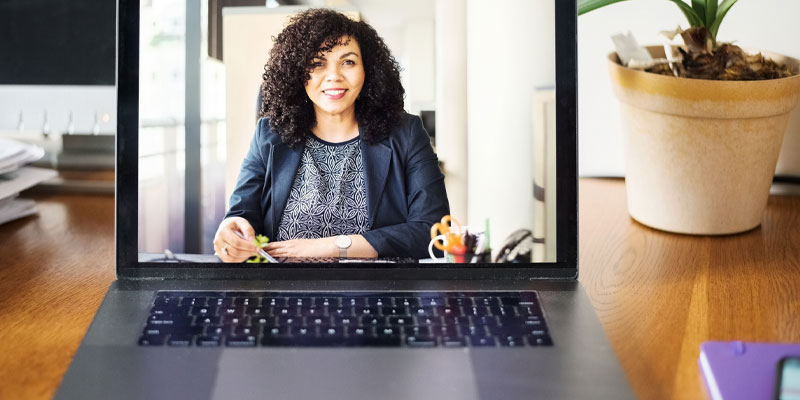 By Lynn Kavcsak, Dean of Career & Employment Resources
During the COVID-19 pandemic, employers have continued to screen job candidates by phone; but second-round, in-person interviews are less common. You're likely to find yourself participating in a virtual interview with a potential employer, using a platform such as Zoom, WebEx, or Microsoft Teams. Below are tips for a polished virtual interview:
Before your interview:
Research the company by visiting its website and reviewing its mission statement.

Prepare two or three questions to ask at the end of the interview.

Dress appropriately, as you would for an in-person interview – not too casual or too formal.

Set up a simple, professional-looking backdrop for your interview.

Minimize files and other distractions on your computer.

Position yourself 12-18 inches from your screen.

Test positions so that your face is not too high or too low for the camera.

Test platform audio in advance.

PRACTICE using different virtual platforms.

Log in 5-10 minutes early.
During your interview:
Smile!

Make good eye contact by looking into the camera.

Listen attentively and respond appropriately to all questions.

Show enthusiasm and professionalism.

Keep noise to a minimum, including pets and children.
After your interview:
Follow up the interview with a personal email, thanking your interviewer and reiterating why you would be a good fit for the position and the company.

Be patient. Companies are hiring, but the hiring process is taking longer during the pandemic.
Good luck!
Source: Dress for Success sponsored Industry-Specific Hiring Practices during Covid-19 Coaching Panel, Monday, September 14, 2020.