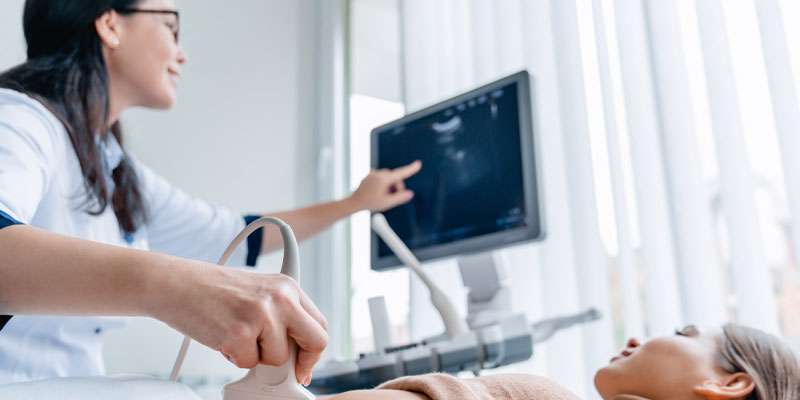 New Program Trains Medical Sonographers 

Healthcare workers are in high demand in Wake County, and Wake Tech has a new program to help meet that demand! The college will launch a new Medical Sonography program in spring 2021 at the Perry Health Sciences campus, adjacent to WakeMed in Raleigh.
The Associate in Applied Science (AAS) degree program will prepare students for a career as a medical sonographer, a skilled healthcare professional trained in using high-frequency sound waves to produce images of internal organs and tissue. Certified sonographers provide imaging services under the supervision of a physician, who analyzes the images to diagnosis problems and plan treatment. 
For many, sonography is associated with pregnancy; it's how a developing fetus can be seen in the womb. But sonography technology is also used in the diagnosis and treatment of medical conditions in the breast, abdomen, heart and blood vessels, and musculoskeletal system.
Medical Sonography is a 21-month program that prepares students to take the national registry examination for becoming a certified sonographer. The exam and certification are provided through the American Registry of Diagnostic Medical Sonographers (ARDMS) and the American Registry of Radiologic Technologists (ARRT).
The curriculum includes rigorous coursework in physics, sectional anatomy, pathology, physiology, and patient care as well as abdominal, vascular, and obstetrical/gynecological sonography. It will be a combination of remote learning and in-person labs.
Students will be placed at various health care facilities, where they will work with hospital staff and have contact with patients. They will complete several night and weekend rotations.
"We're very excited to start this new program," says Dr. Angela Washington, dean of Health Sciences at Wake Tech. "It will help to meet the needs of our community for skilled and professional entry-level sonographers."
Sonographers are typically employed in hospitals, imaging centers, and physicians' offices. Salary ranges are from $45-$75k per year.
For more information, visit sonography.waketech.edu.
---
The outlook for employment as a diagnostic medical sonographer is very good, according to the Bureau of Labor Statistics (BLS). The BLS has predicted that employment will grow 26% from 2014 to 2024, much faster than the average for all occupations.