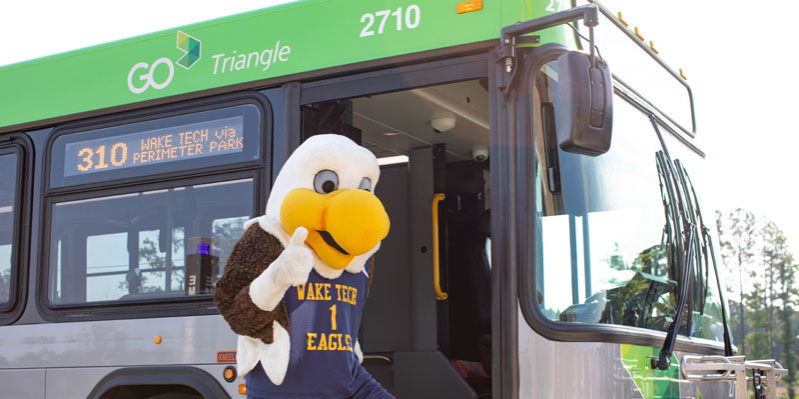 Every weekday, thousands of students buckle up for the drive to one of nine Wake Tech locations across Wake County. Some students let public transit do the driving: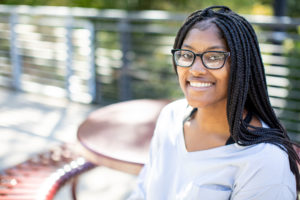 "I don't have my own car," says Chyna, a student who rides the bus to the Scott Northern Wake Campus. "My mom usually drops me off at Triangle Town Center and I take the bus to campus from there."
Wake Tech students have more options than ever for getting to class. Transit routes now serve six Wake Tech locations, including the Scott Northern Wake, Southern Wake, Perry Health Sciences, Public Safety Education, and RTP campuses, as well as the Beltline Education Center.
Some of the newest routes include GoRaleigh 401X and GoTriangle 310. The 401X is a new link from Rolesville to the Scott Northern Wake Campus that makes multiple weekday runs during morning and evening rush hours.
The GoTriangle 310 runs all day long on weekdays, every half hour, from the Regional Transit Center near I-540 to the RTP Campus. GoTriangle has direct routes to the Regional Transit Center from Cary, Triangle Town Center, and downtown Raleigh, so it's possible to get to the RTP Campus from any of those locations.
The Southern Wake Campus is served by the GoRaleigh 40X, an express route from the GoRaleigh Station in downtown Raleigh. Perry Health Sciences, Public Safety Education, and the Beltline Education Center also have service from the GoRaleigh Station.
All the buses have air conditioning, and most have free wifi. Best of all, Wake Tech students ride for free! Students can bring their Wake Tech ID to a College ID Office to pick up a free GoPass!
The Wake Tech Green Trek Office is a hub for alternative transportation options and has all the information on bus maps and schedules. 
Explore the options – including bike and carpool – and enjoy the ride at greentrek.waketech.edu
Transit Options
Southern Wake Campus
GoRaleigh Route 40X
Scott Northern Wake Campus
GoRaleigh Route 1, Route 25L, and Route 401X
RTP Campus
GoTriangle Route 310
Perry Health Sciences Campus
GoRaleigh Route 15 and Route 19
Public Safety Education Campus
GoRaleigh Route 40X and Route 7
Beltline Education Center
GoRaleigh Route 2 and Bush Street Shuttle