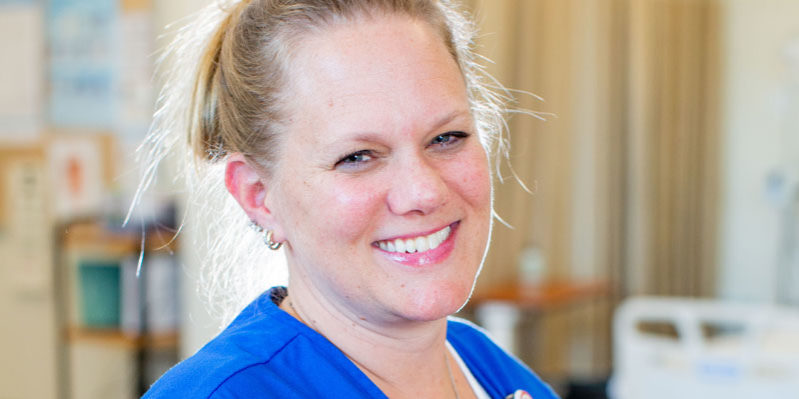 Leslie Whitehurst
Class of 2019

At the age of 37, Leslie Whitehurst was diagnosed with Stage lll breast cancer.
"It was a shock," Leslie says. "I was a mother of two and had just completed the New York City Marathon!" But instead of feeling normal post-marathon pains, she felt something unusual. Leslie went to her doctor for a mammogram, and ended up needing a biopsy, followed by 35 days of radiation, a double mastectomy, and chemotherapy.
Somehow she stayed positive: "I truly believe that mind over matter is a thing."
While being treated at UNC Rex Healthcare of Cary, Leslie realized that the nurses were a big part of what kept her positive. She decided to shift careers from communications to nursing, and enrolled in the Martha Mann Smith School of Nursing at Wake Tech – even before completing her chemotherapy.
"Doctors will tell you they'd rather hire Wake Tech graduates because we get real-world experience."
Three months before graduating, Leslie was hired as a New Graduate Oncology RN at UNC Rex. After one year, she can transfer to the same clinic where she was treated as a patient.
"It's been a ride!" she says. "I've come full circle. And I'm now cancer free!"
To learn more about Wake Tech's Associate Degree Nursing program, visit nursing.waketech.edu.