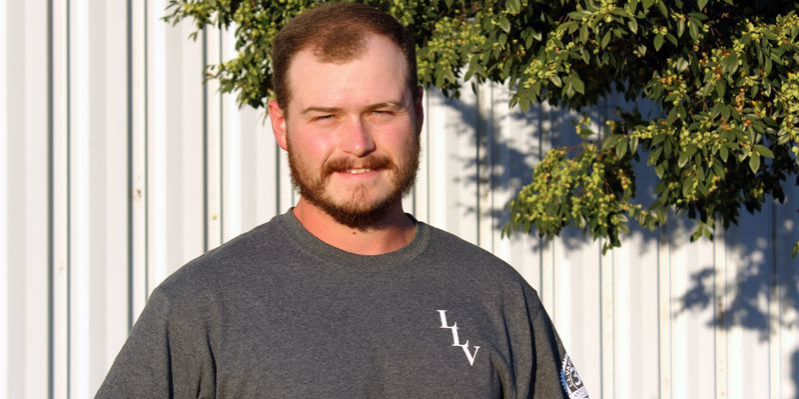 When Joseph Burns graduated from Grace Christian Academy in 2013, he thought he was headed to Campbell University to study criminal justice on an ROTC scholarship. But when his scholarship fell through due to an injury, Joseph's plans completely changed.
"My mother really wanted me to go to college, but I didn't want to take on a student loan," Joseph explains. So he got what he thought was just a summer job with LL Vann Electric, Inc., a commercial electrical contracting company in Raleigh. When his foreman encouraged him to join the company-sponsored apprenticeship program, Joseph's eyes began to open to a different career path.
"As an electrical apprentice, I get to do something new every day," Joseph says. "And there are a ton of opportunities to advance for someone who shows interest in the work and isn't just here for a paycheck."
Apprenticeship combines on-the-job training with related classroom instruction, and students who complete all requirements receive the nationally-recognized Journeyman credential. As they progress through the apprenticeship training levels, the pay scale increases.
The traditional way to become an apprentice is to work for an employer or be a member of a labor group that sponsors a training program. The employer provides the hands-on training and Wake Tech teaches specialized theoretical concepts that the employer needs their workers to know.
Apprenticeships are win-win – for the employees AND the companies that sponsor them. "Apprenticeships are an excellent route to meaningful employee training, mentorship, and long-term retention for companies large and small, and in any industry — not just the trades," said Michael Moore, Wake Tech Apprenticeship Director. "Wake Tech can help any business — from healthcare to IT, barbering to manufacturing – create an apprenticeship program for their employees."
High school seniors can take advantage of another route to apprenticeship: the NC Triangle Apprenticeship Program, or NC TAP. NC TAP gives seniors the opportunity to start a paid position as an apprentice with a local company, and then go on to earn an associate's degree at Wake Tech while continuing their apprenticeship training – all tuition free.
Joseph Burns is proud that he has come this far without the burden of student loan debt. "Debt isn't worth it," he says. Perhaps an equally important accomplishment was winning over his mother to his new career plan. During Hurricane Florence in September 2018, Joseph was able to connect a generator directly to his parents' house safely. "She saw my skills in action, and she was proud of me!"
For more information about Wake Tech's Apprenticeship Training Program, visit apprenticeship.waketech.edu.