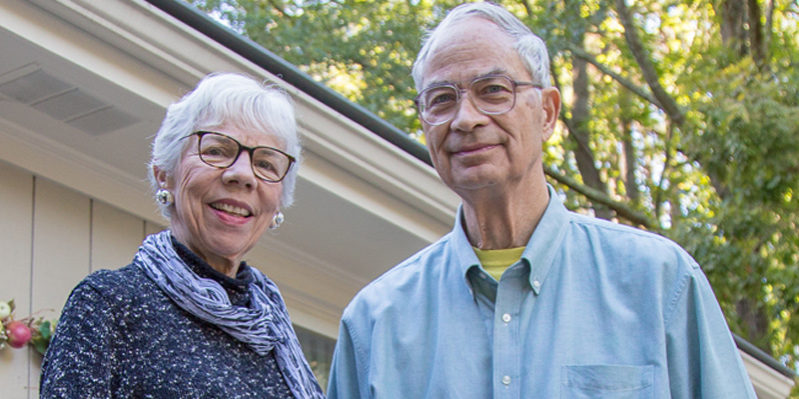 Leaving a legacy is often a desire to be remembered for what you've contributed to the world or to memorialize a loved one and their contributions. One way to do that is by supporting the people and causes that are important to you – and it's easier than you might think.
For Carol Ann and Richard Theuer, supporting immigrants as they adapt to a new life in the United States is a cause dear to their hearts. Carol Ann and Richard worked for several years in the part of Switzerland where French was the common language. They realized how hard it was to fit in when you don't speak the language. Richard says, "When we arrived, I only spoke four words in French, but by the end of our time there I was able to give a one-hour talk. It was quite an accomplishment for me."
When the Theuers came back to the United States, Carol Ann started teaching English as a Foreign Language, often the first step for immigrants in pursuit of higher education or a career. She taught EFL for eight years at Wake Tech before retiring. "These students are filled with desire and motivation," she says. "It's a rewarding community to work with."
To help EFL students, the Theuers created the Brandecker-Mecca Scholarship in honor of their mothers, who greatly valued education and encouraged their children to pursue post-secondary degrees. Carol Ann's parents were born of Italian immigrants. Richard's parents were born in Germany and moved to the states as young adults. Richard says "As a child of immigrants, I grew up appreciating how important communication is to success."
Carol Ann has arranged for her IRA to go to Wake Tech in the future, to create EFL scholarships for years to come. "The gift is set up so that we can make adjustments if circumstances change, but we plan to keep funding these scholarships for as long as we can."
"Planned gifts to the Wake Tech Foundation have a tremendous impact," says Roxanne Miller, Director of Development. "Many of these gifts are simple to arrange, reduce your taxable estate, and allow you to retain your assets throughout your lifetime. The flexibility of a planned gift permits you to designate a specific dollar amount, a percentage of your estate, or a piece of property."
There are many ways to give. A few of the simplest to arrange include: designating a gift to the Wake Tech Foundation in your will or living trust, or naming the Foundation as a beneficiary of a retirement plan or life insurance policy. Your planned gift can support an academic program that's important to you, endow a scholarship, or provide for college enhancement through an unrestricted gift.
Share your plans with us! Doing so ensures that your wishes will be followed and helps Wake Tech with long-term planning. Donors are honored on the President's Wall and in the Annual Report, and are invited to join the Legacy Society to be recognized and celebrated as individuals who will have an impact on Wake Tech students for generations to come.
Defining your legacy is one of the most important decisions you will make in your lifetime. To learn more about making a planned gift to the Wake Tech Foundation visit foundation.waketech.edu.
If you've already taken steps to include Wake Tech in your estate plan, thank you! Please let us know so that we can express our gratitude.