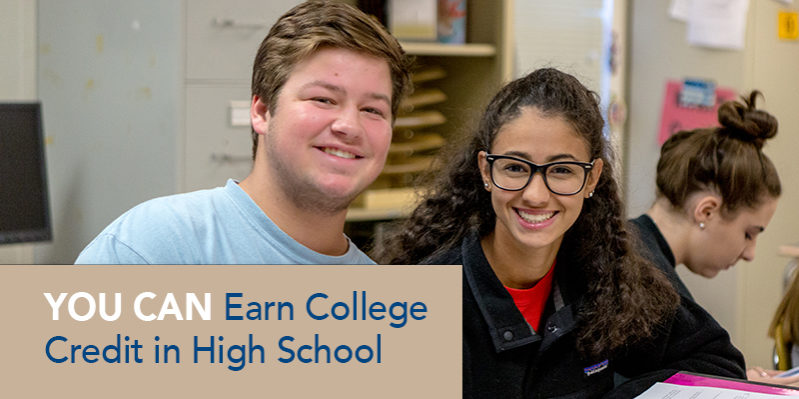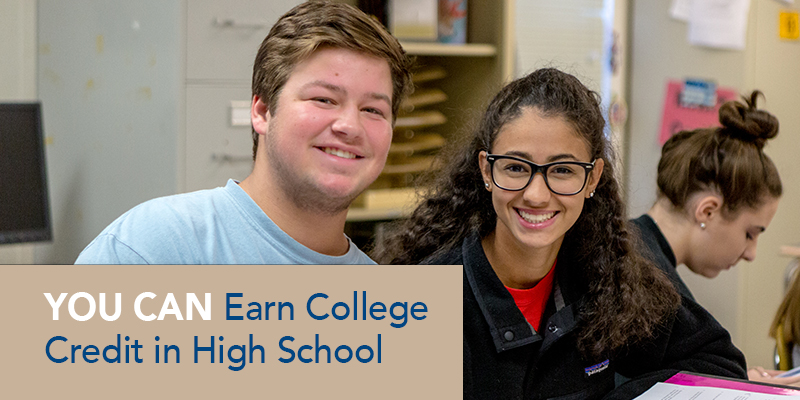 You Can Earn College Credit in High School – That's a Promise!
It's no surprise that people with a college degree or certificate earn more and have greater opportunities than those with a high school diploma alone. The good news is that students don't have to wait until they graduate from high school to start earning college credit! Wake Tech's Career and College Promise (CCP) program, sometimes referred to as dual enrollment, provides "seamless" ways for eligible high school students to get a jumpstart on college courses – or to build basic skills for their first job – by taking college courses while still in high school. And perhaps best of all, the college courses high school students take through CCP are tuition free!
CCP offers students three pathways: College Transfer, Career and Technical Education, and Cooperative Innovative High Schools.
The Career and Technical Education pathway allows eligible high school juniors and seniors to earn tuition-free course credits toward a job credential, certificate, or diploma in a technical career. Students can choose biopharmaceutical technology, business intelligence, electrical systems, hospitality, introduction to law enforcement, plumbing, simulation and game development, or many others. (See the complete list at ccp.waketech.edu.) Classes for these programs are taught on Wake Tech campuses, at certain Wake County public high schools, and online!
Alex Blanton and Leila Abu-Hassan are among dozens of students taking Wake Tech's Introduction to Criminal Justice course at Fuquay-Varina High School. Neither had made a definitive career choice before enrolling in the course, but Alex says, "I love it! The class has sparked my interest in this field." Leila says it's "more like the college experience and makes me feel more responsible." The program is also taught at Middle Creek and Knightdale high schools.
The College Transfer pathway allows college-ready high school juniors and seniors to get started on a bachelor's degree. This pathway offers tuition-free course credits toward the Associate in Arts (AA), Associate in Science (AS), or Associate in Engineering (AE) degrees that transfer seamlessly to participating colleges or universities, public and private.
Home-schooled student Olivia Slack loves animals and wants to be a veterinarian someday. She's taking several courses on Wake Tech's Main Campus. By the time she earns her high school diploma she'll also have an Associate in Science degree, and be able to enter a four-year college or university as a junior! "It's great that I have this opportunity," she says. "This will give me a head start on my career."
Trevis McCullough jumped at the opportunity to take college courses in his senior year at East Wake Academy in Zebulon. He took an online economics course first semester, and three additional CCP courses in the spring. He's now a full-time student at Wake Tech, studying engineering and working as an apprentice at GlaxoSmithKline, through the NCTAP program. "CCP has been great for me," he says. "I think all high school students should look into it."
The Cooperative Innovative High Schools pathway is a collaboration between Wake Tech and Wake County Public Schools that offers high school students the opportunity to take courses for college credit at two unique local high schools. The Wake Early College of Health and Sciences focuses on health care careers, while the Vernon Malone College and Career Academy offers nine technical programs. Soon, students will have a third option: The North Wake College and Career Academy will open in Wake Forest in fall 2017, offering five additional technical programs.
Austin Truelove is having a great experience at Vernon Malone College and Career Academy, where he's a junior, studying Simulation and Game Development. He'll graduate from high school with an academic certificate for that program and be well on his way to an associate's degree when he enters Wake Tech to complete the program. "I love how interactive the teachers are," he says. "I feel like I'm learning a lot and getting ahead!"
The number of CCP students at Wake Tech has more than doubled in the past two years, as more families learn about these options. Michelle Lair, Director of Admissions Services, calls it an economically-smart way to begin earning college credit. "Once parents and students see that they can take advantage of tuition-free college classes, they're eager to enroll. Students love earning college credits, and some complete a pathway and earn a credential that enhances their resume and makes them more competitive in the job market."
A CCP class can also strengthen a college application – and help an undecided student zero in on a career option, says Sandy Dietrich, Wake Tech's Chief Academic Officer. She says students should be aware of the impact grades can have on college transcripts – but that "students who are responsible and self-motivated will have no problem succeeding in college classes."
Sound enticing? You can get started by attending a required information session at your convenience. Register for one at ccp.waketech.edu. You'll get more details about options, eligibility, and the application process, along with approval forms to take back to your high school. Once you're accepted to the CCP program, you'll be invited to an orientation for the upcoming semester. It won't be long before you're earning college credit, and well on your way to a future that's full of promise!
Getting a Jump on College
By 2020, approximately 35 percent of job openings will require at least a bachelor's degree, and another 30 percent will require at least an associate's degree or some college.
More than 1.4 million high school students nationwide take courses offered by a college or university for credit through dual enrollment.
Research suggests that participation in dual enrollment can lead to improved academic outcomes.
(Source: www.ed.gov)