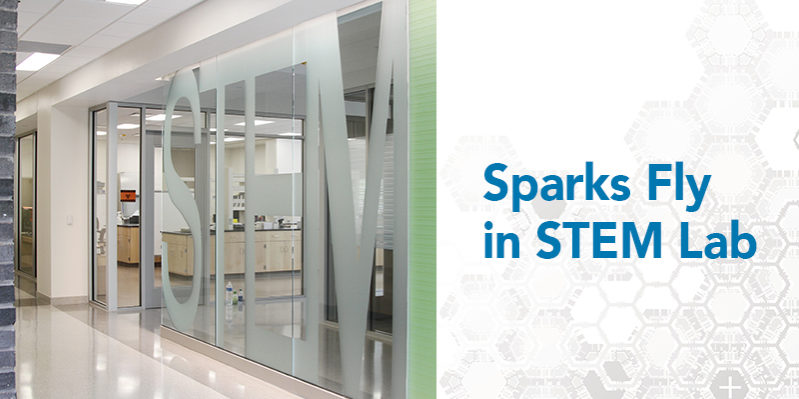 Interest in science, technology, engineering, and math is growing at Wake Tech, "stemming" from a new lab on the Northern Wake Campus. The lab gives students an opportunity to conduct research and get a feel for what a career in STEM might be like. It's a new venture for Wake Tech, and something of a rarity for a community college.
The unique new STEM lab is designed with biology, geology, chemistry, mathematics, physics, and engineering in mind. It features state-of-the-art equipment that includes a chemical fume lab, a bio-safety cabinet, an orbital shaker, centrifuges, microscopes, and 3D printers. Students can work independently or collaboratively, with instructor guidance, or with research partners from NC State, NC Central, and other universities.
Wake Tech student Laura Boyette is excited about the opportunity for hands-on experience: "This lab is invaluable! It really helps me understand what I'm learning in class."
Student researchers are exploring biofuels, algae, fruit fly behavior, organic and non-organic garden soil, the effect of artificial sweeteners on intestinal bacteria, and a variety of other topics in the lab. The goal is to give students research experience and inspire them to pursue a career in STEM.
"We want students to be able to touch their dreams," says Dr. Jackie Swanik, Associate Dean, Mathematics, Sciences, & Engineering. "The STEM lab allows them to see what scientists and engineers do in the real world."
STEM careers are trending! Both U.S. News and World Report and Forbes report that for 2016, nine of the top 10 jobs and eight of the 10 highest-paying jobs are in STEM fields. Laura hopes to join that growing number. She's pursuing an Associate in Science degree and plans to become a medical researcher. "I chose a STEM career because I want to be fulfilled – and I want to make an impact."
Dr. Swanik says that's what the STEM lab is designed to do: "We want to inspire students to pursue their passion for STEM. We know the research experience will keep them competitive for internships, university transfer opportunities, and the job market."
The STEM lab is open to all students, although they must be paired with an instructor to conduct research. For more information on STEM education at Wake Tech visit STEM.waketech.edu.