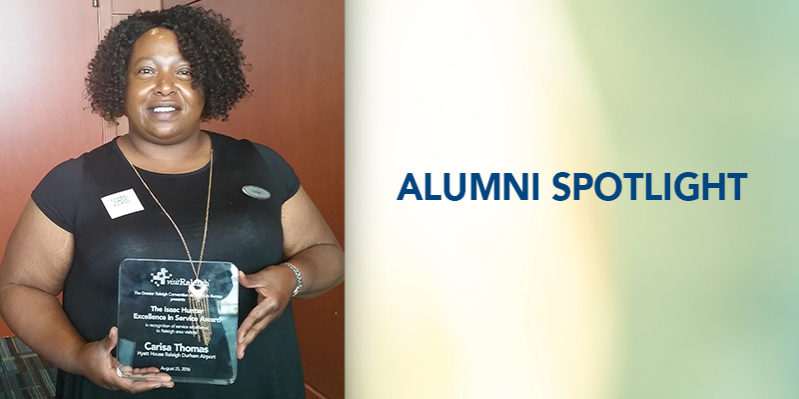 "I wouldn't have received this level of support at another college or university."
– Carisa Thomas, Class of 2013
Alumni Spotlight: Carisa Thomas
When Carisa Thomas lost her customer service job in a layoff a few years ago, she needed a new career option. She learned about Wake Tech's Hospitality Certification Program and decided she was ready to take her experience into the hospitality field.
The non-credit program, offered through Wake Tech's Workforce Continuing Education Division, is a concentrated introduction to the restaurant and lodging industry. It gives students the skills and credentials to work in front desk service, reservations, housekeeping, property management, and more.
"My experience at Wake Tech was awesome!" said Carisa. "Whenever I struggled, my instructor was there to push me forward. I wouldn't have received that level of support at another college or university."
Carisa completed the program in 12 weeks and began working at a Hyatt House hotel, where she continues to use what she learned. She's moved up from breakfast attendant and front desk host to visitor ambassador, where she assists extended stay guests with everything the hotel has to offer. She's been doing so great that she even won the 2016 Isaac Hunter Award for Excellence in Service from the Greater Raleigh Convention & Visitors Bureau! Co-workers nominated her for the award, which she says was "a great honor, and quite a shock!"
Sameer Pawa, coordinator of the Hospitality program, says the award is "a testament to Carisa's ability to exceed expectations and deliver outstanding service."
What's her philosophy? "Treat other people better than they treat you." She considers no job too small and always goes above and beyond to help customers – and colleagues. Carisa's thankful for her new career and encourages others to explore the field of hospitality.
For more information, visit starthospitality.waketech.edu