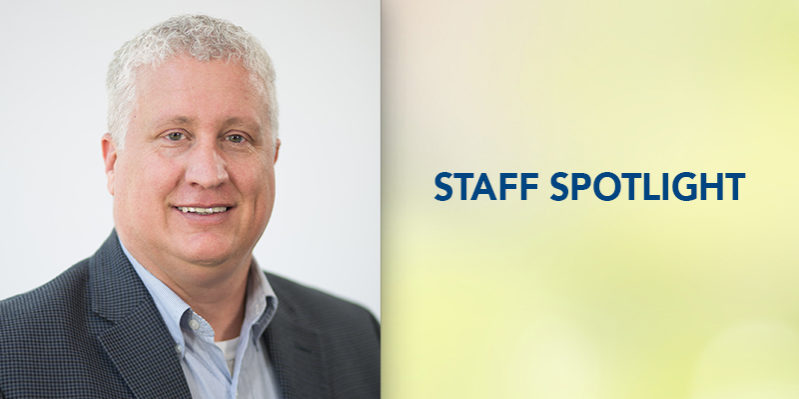 Michael Penry
2016 Staff Member of the Year
Title:  Chief of Police
Background: I grew up in Kernersville, NC, in a home of public servants. My father was the chief of the Kernersville Rescue Squad, and my brothers were firemen. It was instilled in me from an early age that there is great satisfaction in helping people. I worked for the Rescue Squad for about seven years, but I was always more interested in becoming a police officer. After moving to Raleigh I became the chaplain for the Wake County Sheriff's Office, and eventually a deputy. I spent several years working as a school resource officer. All those experiences helped prepare me for the position I hold today.   
Education: Basic Law Enforcement Training, Johnston Community College; BA in World Religions, High Point University; MA in Intercultural Studies, Southeastern Baptist Theological Seminary.
Industry Credentials: Held Emergency Medical Technician credentials in NC for seven years. Deputy Sheriff for the Wake County Sheriff's Office, where I achieved First Class Deputy, Master Deputy, and School Resource Officer certification. Treasurer for the North Carolina Association of Campus Law Enforcement Administrators.
Work experience: EMT, Kernersville Rescue Squad; Deputy Sheriff, Wake County Sheriff's Office; Police Chief, Wake Tech Campus Police Department; Missions Consultant; Pastor, The Revolution Church
Special honors, awards, and accomplishments: I received the Excellence in Service Award and Staff Member of the Year Award here at Wake Tech in 2016. I also had the privilege of serving on the Board of Trustees of the International Mission Board for eight years.
Personal/Family: I have been blessed to be married to Ginny Penry for 22 years. We have two teenage daughters, Alaina and Holly.
Hobbies: I enjoy cooking with my family, and we often cook international dishes to try our hands at something different. I enjoy traveling, and one of my favorite places on earth is Ocracoke Island.
Best thing about Wake Tech is … that it is a school that truly makes a positive impact on people's lives.
Advice: Not to sound cliché, but I see signs and posters everywhere that say "Live, Laugh, Love." I love the thought behind this. Live – to make a difference. I want Wake County to be a better place because I lived here and made some small difference in someone's life. Laugh – life is too short to be angry and bitter. Find people you enjoy being around and a job you get satisfaction from. Learn to love life. Love –
people. Make a difference in someone's life, whether a family member, a fellow Wake Tech'er, or a total stranger.