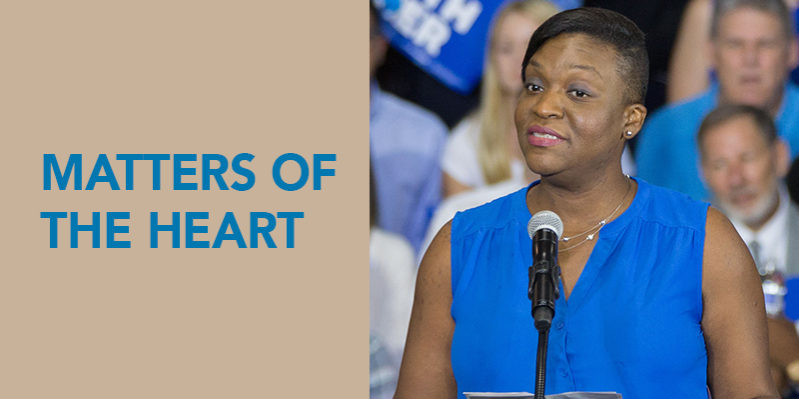 The Wake Tech Foundation serves students by providing scholarships that help them continue with their education – and realize their dreams.
Christine Bonaventure is a 41-year-old mother of three who enrolled in Wake Tech's nursing program in 2014 in pursuit of a new career. She was working as a science teacher but wanted to enter the medical field. Wake Tech offered the nursing education she sought along with affordable tuition and flexible scheduling: "Wake Tech had what I needed!"
She dedicated herself to Wake Tech's nursing program, but balancing life as a working mother and student was a struggle that became overwhelming. Christine reached her lowest point and even tried to end her life before finding help. With counseling, Christine got better. She thought withdrawing from college was the only way to get back on her feet financially and avoid greater debt. Then, an advisor told her about the Wake Tech Foundation. "I just went for it," Christine says. "I thought scholarships were just for younger people!"
Foundation scholarships provide crucial support for students in need as well as for those with outstanding academics. The scholarships offset tuition costs and can relieve the considerable stresses of managing school, work, and family. Christine received two scholarship awards – enabling her to focus on the education she needed to change her life. Christine tells others, "It's okay to cry and feel frustrated. Be human – know when you have to take a step back and re-focus. But go ahead and see what you can get done. Wake Tech doesn't want you to fail!"
Christine is a health professional now! She graduated in May 2016 and quickly found a job as a cardiac nurse at Duke Raleigh Hospital. Christine plans to continue her education at UNC-Chapel Hill. She already has a bachelor's degree in environmental science, now she wants to pursue a master's in nursing. Her goal is to work as a Family Nurse Practitioner in an ER or trauma center.
She reached another milestone when she was invited to tell her story on a national stage – as she introduced former Secretary of State Hillary Clinton, during a presidential campaign visit to Wake Tech! The experience, she says, was "surreal." Clinton was impressed and met with Christine and her children after the rally. Christine says several women from the audience also lined up to speak with her backstage. "I was humbled and honored," she says. "Hillary came to me with open arms and was very warm. I wasn't expecting that!"
Christine is thriving now, and looking forward to her future. Her friends and family are incredibly proud of all that she's accomplished.
Foundation scholarships can indeed be life changing. To learn more about scholarship opportunities, or to establish a scholarship for a deserving student, visit foundation.waketech.edu.