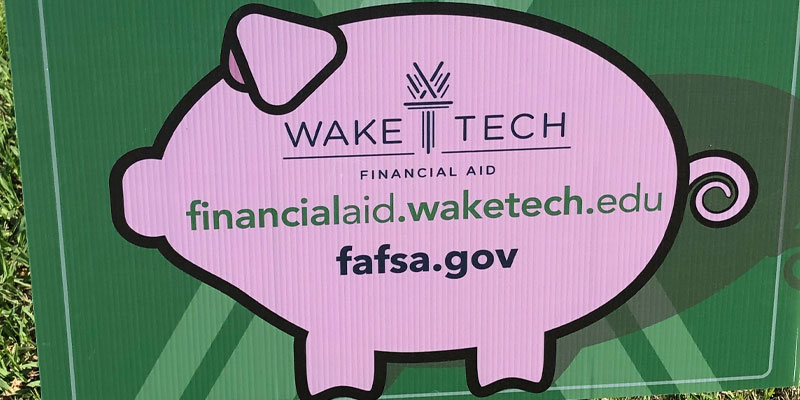 If you've ever thought a college degree was beyond your financial reach, you'll be glad to learn that assistance is more available than ever before!
For degree programs, the first step is completing the Free Application for Federal Student Aid, or FAFSA. That will determine whether you qualify for financial aid, and which kind:
Many Wake Tech students receive

Pell Grants

. A Pell Grant is federal funding that does not have to be paid back.
Many recent high school graduates qualify for North Carolina's

Longleaf Commitment Grant

. It applies to 2020, 2021 and 2022 high school graduates who are classified as in-state students through the Residency Determination Service (RDS).
Wake Tech's

last-dollar scholarship

covers any remaining tuition and fees for a year for 2022 high school graduates.
With your FAFSA complete, you'll automatically be considered for all these programs – no special application needed!
Once you've been a Wake Tech student for a year, you'll want to check out the hundreds of scholarships offered by the Wake Tech Foundation. You can apply for all with a single application!
Financial assistance is also available for students in non-degree programs. For working professionals and those looking to train for a new career in a high-demand field, Wake Tech Propel offers up to $750 for fast-track, non-degree training programs that lead to industry certifications in IT, business, healthcare, skilled trades and other areas. You can start a fantastic new career at little-to-no cost! And some of these programs can also lead to credit in a degree program if you want to continue your education. Visit propel.waketech.edu.
For degree programs, Wake Tech in-state tuition, like all NC community colleges, is set by the state at $76 per credit hour. Tuition and fees per semester total roughly $1,300 for a full-time student. At a university, those costs can be three or four times as high, not including room and board! By attending Wake Tech for two years and transferring to a university to complete your bachelor's degree, you can save a lot! Most all Wake Tech degree programs have seamless transfer options. Visit transfer.waketech.edu.
Finally, Wake Tech provides assistance with some of the other challenges students face. We offer emergency aid when needed, food and Food Lion gift cards through The Nest food pantry, free bus passes for getting to campus, and assistance with securing a laptop. So, don't let cost be an obstacle! Now's the time for an adventure that can change your life! apply.waketech.edu