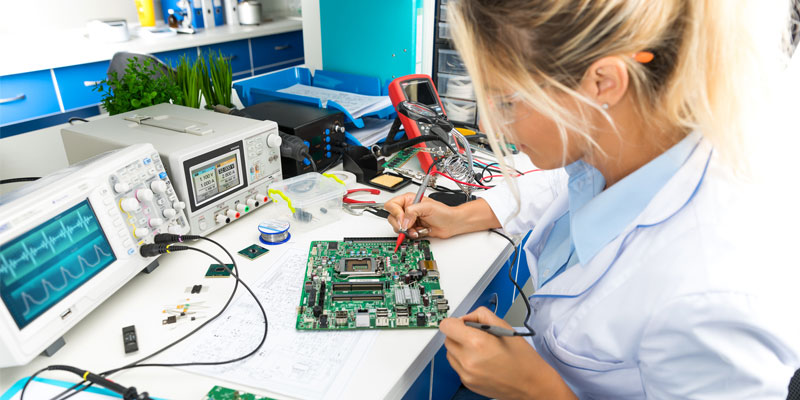 There's a new resource for women seeking careers in STEM. Thanks to a generous donation from SEPI, Inc., a woman-owned engineering firm in Raleigh, the Wake Tech Foundation now offers a special scholarship for underrepresented students, with preference for women and students of color. The SEPI Leadership Scholarship is available to students pursuing an Associate in Science or Associate in Engineering (AS or AE) degree at Wake Tech.
Jamie Casseday and English Flaherty were the first SEPI Scholars. Each received $2,500 to cover tuition and books along with a laptop donated by Dell. They also received leadership training and networking opportunities with SEPI, Inc., and Wake Invests in Women, a public/private collaborative focused on closing gender gaps in STEM fields in Wake County.
"I commend Wake Tech and SEPI for supporting women as they pursue careers in science, technology, engineering and math," says Dr. Kasey Ashton, Executive Director of Wake Invests in Women. "These are high-demand, high-paying jobs, but there are not many women filling these roles."
Across the country, women make up 50% of the workforce, but that number drops to only 36% in STEM fields.
Jamie Cassaday graduated from Wake Tech with Associate in Science and Associate in Engineering degrees. She plans to transfer to NC State to pursue a degree in industrial engineering.
"I want to improve efficiency and processes in the workplace, so employees are happier and healthier," she says. "Thanks to Wake Tech, I've improved my communication skills and learned how to be a champion for myself. This scholarship has really opened doors for me."
English Flaherty says she wasn't good at math and science in her younger days, but that changed as she got older. "While working in a medical office," she says, "I realized I loved science, and it totally changed the narrative." She plans to become a physician's assistant and encourages other women not to sell themselves short. "I hope more women will give science and math careers a try," she says. "You may find something you're really great at, and if you work hard, it will pay off. Just go for it!"
Women pursuing Associate in Science and Associate in Engineering degrees at Wake Tech can apply for a SEPI Leadership Scholarship next spring. Learn more at scholarships.waketech.edu. Learn more about Wake Invests in Women at wakeinvestsinwomen.waketech.edu.