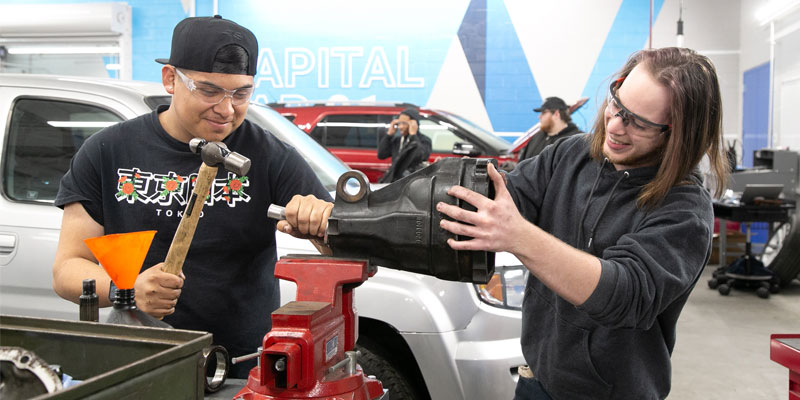 The Hendrick Center Puts Automotive Careers in the Fast Lane 
When it comes to planning her future, Emelyn Leon Lopez is "full speed ahead"!  
Growing up in Cary, Emelyn has had a passion for cars since her early teens – when she and her dad began tinkering under the hood. One time they fixed the family car instead of paying someone else to do it, and Emelyn enjoyed it so much that she decided she wanted to repair cars for a living.
"That experience fueled my interest in cars, and I discovered I really like to fix things," she says.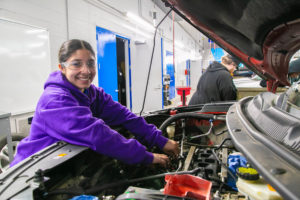 When Emelyn found out that Wake Tech offers an Associate in Applied Science (AAS) degree in Automotive Systems Technology, and that it was affordable, she enrolled. And when she found out she'd be one of the first students to train in the new Hendrick Center for Automotive Excellence at the Scott Northern Wake Campus, she was thrilled!
"The training at Wake Tech is preparing me for what I will face in the real world!" she says.
Wake Tech's program includes both new and emerging technologies, and the curriculum covers all facets of automotive systems, from the basics of engine repair, electrical systems, brakes, steering and suspension, transmission, and climate control, to advanced technologies such as alternative fuels, driver assist calibration and eventually electric vehicle repair. 
Students in these programs can take advantage of numerous opportunities:
Specialized training with Audi, Fort, GM, Mercedes-Benz, Subaru or Toyota/Lexus.

 

Paid apprenticeships at local dealerships and service centers.
Options to transfer to a university to pursue a bachelor's degree. 
Scholarships: Thanks to industry partners, there are multiple scholarship opportunities through the Wake Tech Foundation – including the Advance Auto Parts Foundation Future Technicians program designed to increase diversity in automotive programs.
When they graduate, students are prepared to take the Automotive Service Excellence (ASE) exam and begin full-time employment. And jobs are waiting for them! The U.S. Bureau of Labor Statistics projects about 69,000 openings for automotive service technicians and mechanics each year, between now and 2030. Many of these jobs will result from the need to learn new technologies or replace workers who retire. 
"There is definitely a need for talented technicians," says Matt Berry, director of Automotive Systems Technology at Wake Tech. "Our students are learning the skills that are in high demand in dealerships and repair shops in our area." 
Wake Tech also offers a new AAS degree program in Collision Repair & Refinishing Technology that includes painting and refinishing, non-structural and structural repair, automotive detailing, body shop operations, and auto body estimating. Students in this program learn all the cool techniques such as window tinting and car wrapping. There are short-term non-degree options as well, including safety inspection, maintenance and light repair, and auto body restoration.
The Hendrick Center for Automotive Excellence features the 16,500-square-foot Capital Automotive Lab with 13 lifts and two-wheel alignment machines. Other features include a performance lab for engine and transmission classes, dyno rooms for testing engines and transmissions and a welding lab. The Axalta Collision Repair Lab has six lifts, four paint booths and two frame straighteners. 
It's the perfect environment for students like Emelyn who want to turn their love of working on cars into a career. 
"I am now teaching my dad what I've learned!" she says. Emelyn, a first-generation college student, is hoping to one day open her own business and make her mark in an industry that has traditionally been dominated by men.
"I feel empowered to help change the stereotype," she says. "As women, we can do these jobs too!"
Learn more about Wake Tech's automotive training programs at www.waketech.edu/transportation.
Automotive Careers in Wake County
Automotive Service Technicians
Job Openings (Last 12 Months): 886
Starting Salary: $31,800 – $44,800
Auto Body Repairers
Job Openings (Last 12 Months): 78
Starting Salary: $35,300 – $44,000
(Source: Burning Glass)