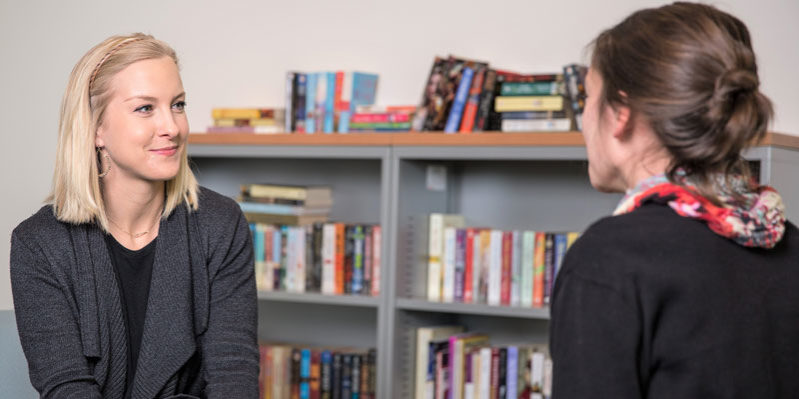 There's no doubt that a mental health crisis is affecting college students. Studies show a steady increase in students seeking mental health services at colleges and universities across the nation. Common concerns such as depression and anxiety are prevalent, and issues such as suicidal thoughts are growing. That's why Wake Tech offers Wellness Services as a free confidential resource for students.
Wellness Counselor, Brittany Satterwhite, is a Licensed Professional Counselor (LPC) and a Licensed Clinical Addiction Specialist (LCAS) and speaks to students about topics ranging from stress and anxiety to substance abuse, grief, anger, and suicidal thoughts. "I truly believe that there is more to college than going to class and doing assignments," Satterwhite says. "Our students have a multitude of stressors like family, finances, self-doubt, and substance misuse."
At Wake Tech, anxiety, depression, and stress are the top three concerns among students, who are seeking help in record numbers. This year, 36% more students took advantage of Wellness Services compared to last year. The number of walk-in sessions, and suicide interventions is also on the rise.
Satterwhite says the increase may be partly due to increased awareness among students and staff that this resource is available on campus. It may also be due to the fact that many students have had mental health issues in the past. "Many students come to school with pre-existing mental health conditions that are exacerbated by stress and limited support. Unfortunately, I've seen how poor mental health results in serious negative outcomes and eventually leads students to withdrawing from class."
Wake Tech trails the national average for students seeking help for substance abuse, but it outpaces other institutions for students who have issues with depression, anxiety, and stress. Satterwhite says this represents a substantial challenge for Wake Tech. "I believe we all need to work together to develop a continuum of options to educate and support students," she says. "My hope is that as the demand for collegiate mental health resources grows, so will services offered at Wake Tech."