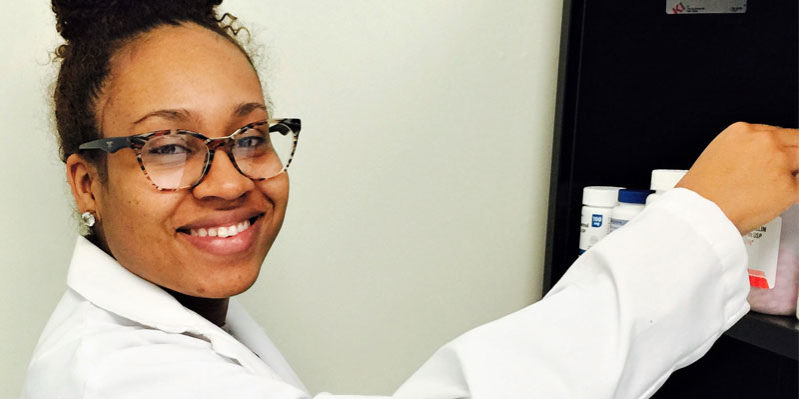 If you're looking for a growing career field in healthcare, look no further than your local pharmacy. Pharmacy technicians, who work under the supervision of a pharmacist, are in high demand. That's what brings many students to Wake Tech's Pharmacy Technology program.
Secorria Pettiford is pursuing an Associate in Applied Science (AAS) degree and getting hands-on training that's preparing her to work in this field.  "I always knew I wanted to go into the healthcare industry," she says. "I really enjoy helping people, and knowing that the prescriptions I'm working on will help them get well." 
Pharmacy technicians assist and support pharmacists in providing prescription medications, over-the-counter drugs, medical equipment and supplies, and other health care products and services for patients. Students in Wake Tech's program gain a broad knowledge of pharmacology, drug uses, actions, interactions, and side effects. They also learn about medication therapy, drug delivery systems, purchasing and inventory control, and pharmacy law and regulations. Through simulated pharmacy laboratory activities, students increase their skills in managing pharmacy operations by using specialized computer software, interpreting prescriptions, and processing medication orders. 
One of the most important skills they learn is how to verify the authenticity of prescriptions. "Pharmacy technicians are on the frontlines," says department head Shannon Natale. "They're trained to spot forged prescriptions – a critical skill as the nation battles the opioid epidemic." 
In addition to lab training and classroom lectures, students complete three hospital rotations, two community pharmacy rotations, and a specialty pharmacy rotation. They must also pass the national certification exam to graduate. Pharmacy technicians in North Carolina are not currently required to be certified, but Wake Tech considers the certification crucial. "This program really prepares you for the real world," says Pettiford. "When you're hired, you're ready to get started from day one!" 
Natale says employers are very impressed with Wake Tech's program — and graduates. "We have several local pharmacies that come to us before they open positions to the general public," she says. "They base their job descriptions on the skills that Wake Tech graduates have." 
According to the Bureau of Labor Statistics, increased demand for medications is leading to more demand for pharmaceutical services. Employment of pharmacy technicians is projected to grow 12% from 2016 to 2026, faster than the average for all occupations.
Wake Tech students are in such high demand, that many have jobs even before they graduate. Pettiford is among them. She works part-time for a veterinary pharmacy while attending Wake Tech – and raising a newborn! "I have help," Pettiford says. "I find the time to study – sometimes when my son is sleeping!" She plans to transfer to Campbell University after she graduates and pursue a bachelor's degree in clinical research. It's clear that Pettiford has discovered a prescription for success, thanks to Wake Tech's pharmacy technology program. 
For more information, visit pharmtech.waketech.edu.
Pharmacy Technicians
2017 Median Pay: $31,750
Source: bls.gov