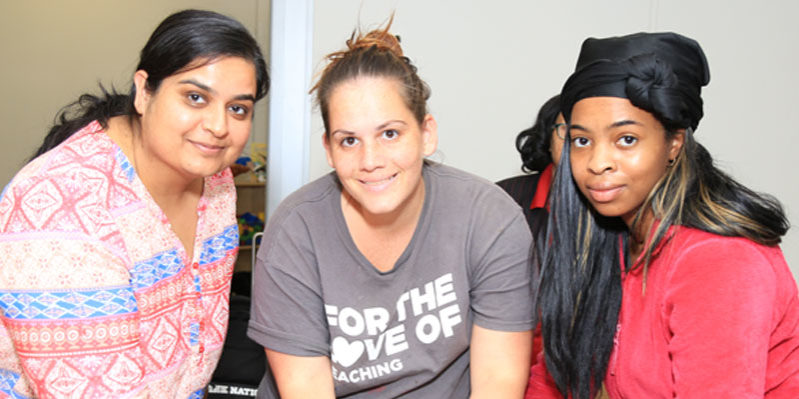 Every day is filled with wonder and exploration for young children and the teachers who guide them as they grow and change at such a rapid pace. These early childhood educators play a vital role, helping children develop, learn new skills, and explore interests in a supportive environment. And for the past 35 years, Wake Tech has prepared hundreds of men and women for this important and rewarding work in preschools and childcare centers. 
Today, options for early childhood educators are expanding! A new articulation agreement, forged between the NC Community College System and the UNC System, makes it possible for Wake Tech students who earn an associate's degree in Early Childhood Education to transfer "seamlessly" to universities, where they can earn a bachelor's degree.
"This is an outstanding new opportunity for Wake Tech students," says Karen Ray, Department Head. "Many of our graduates choose to continue their education at a university. Now, they can do that without losing credit for the work they've done!"
The new agreement offers two transfer options: 
Transfer into a Birth to Kindergarten Teaching Licensure baccalaureate program, offered at 12 UNC system universities, including Appalachian State University, East Carolina University, NC Central University, and UNC-Greensboro.


 

Transfer into an Early Childhood Non-teaching Licensure baccalaureate program, offered at eight UNC system universities, including East Carolina University, Fayetteville State University, and UNC-Greensboro. Graduates of these programs often work in administration and in agencies that provide support to children and families.
Of course, the option of entering the workforce remains for those eager to get started on their careers. That's good news for local childcare centers, where the demand for skilled preschool teachers and administrators is growing. Across the country, employment for preschool teachers is projected to grow 10% over the next eight years, as older workers retire and as public awareness of early childhood education and its value increases. In North Carolina, the expansion of NC Pre-K and Early Head Start has resulted in an increased need for graduates with a bachelor's degree and Birth to Kindergarten teaching license. The NC Department of Commerce projects a continuing increase in early childhood administrator positions as well.
Ashanti Dunn enrolled in Wake Tech's Early Childhood Education program because she loves working with children. "I thought I would go straight to work in a childcare center after graduating," she says, "but I'm now thinking about all types of possibilities!"
She's not alone. Nisha Yadav was a high school teacher in India, but her five-year-old daughter inspired her to start working with younger children. "I'm hoping to open my own childcare center," she says.
Wake Tech's Early Childhood Education curriculum includes growth and development, physical and nutritional needs, care and guidance, and communication with families and children. Students learn how to foster the cognitive, physical, social, and creative development of young children through conceptual and hands-on learning activities. 
Learn more at earlychildhood.waketech.edu.
Career Options
Teachers of Young Children
Job Possibilities
Childcare centers

Preschool programs

Head Start programs

Publicly-funded Pre-K programs
Salary Range: $16,430–$49,660
Administrators/Directors
Job Possibilities
Childcare centers

Preschool programs

Head Start programs

Publicly-funded Pre-K programs

Self-employment
Salary Range: $27,110–$72,220
Instructors/Trainers
Job Possibilities
High schools, colleges, and universities

Resource and referral agencies

Professional associations

Public and nonprofit agencies

Self-employment
Salary Range: $26,450–$108,640
Source: Childcare Services Association